North Carolina woman claims she nearly lost leg after contracting serious infection from pedicure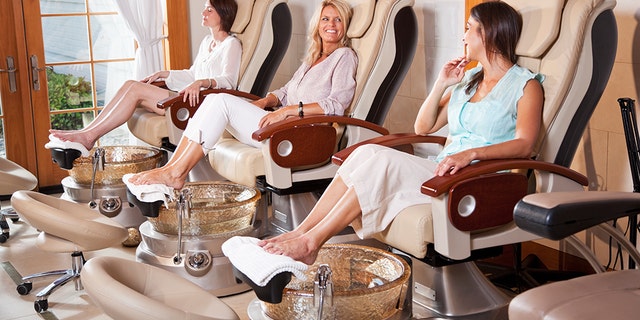 WARNING: GRAPHIC IMAGES BELOW
A North Carolina woman who claims she nearly lost her leg from a serious skin infection she contracted during a pedicure is now warning others about the dangers of callus cutters.
In June, Tracy Martinez of Winston-Salem, North Carolina, went for a pedicure at a "very clean" salon, she recalled on Facebook. The next day, however, she became ill, experiencing a fever, chills, nausea and vomiting. And her condition soon worsened.
VERMONT WOMAN REVEALS HORRIFIC WILD PARSNIP BURNS IN WARNING ABOUT DANGEROUS PLANT
"I am walking off balance, my leg was huge, I'm out if it with no strength," she wrote, adding that an ambulance was called soon after to take her to a local hospital.
Physicians later told Martinez she had a severe case of cellulitis, a bacterial skin infection that "can spread to your lymph nodes and bloodstream and rapidly become life-threatening," according to the Mayo Clinic.
"Cellulitis occurs when bacteria, most commonly streptococcus and staphylococcus, enter through a crack or break in your skin," the academic medical center explained.
Symptoms include pain, swelling, tenderness, red spots and blisters, among other signs.
In Martinez's case, doctors informed her she likely developed cellulitis after she was minorly cut by a callus cutter — a tool that helps remove dead skin from heels and feet — that was used during her pedicure at the salon, which has not yet been identified.
In North Carolina, callus cutters are prohibited by the state's Board of Cosmetics, WFAA reported. Martinez said she was unaware of this until after she was hospitalized for two weeks due to the infection.
Martinez, 35, added that she will be on medication to treat the remnants of the infection for the next three months. She will also have to wear a compression stocking on the affected leg to prevent any future infections.
"Was I going to lose my leg? Was I going to lose my life?"
"I have been through hell, pain, shock, all of it. But I want to raise awareness," she wrote, warning others to "say no" to callus cutters.
"Every day was a new chapter of what was going to happen to my leg," Martinez, whose Facebook post has garnered 50,000 reactions and more than 150,000 shares, told WFAA.
WOMAN HAS LEG AMPUTATED AFTER INFECTION FROM SHAVING CUT
"Was I going to lose my leg? Was I going to lose my life?" she wondered.
Martinez was not immediately available for comment when contacted by Fox News on Tuesday.