Newlywed struck by polio-like illness after coming down with cold on honeymoon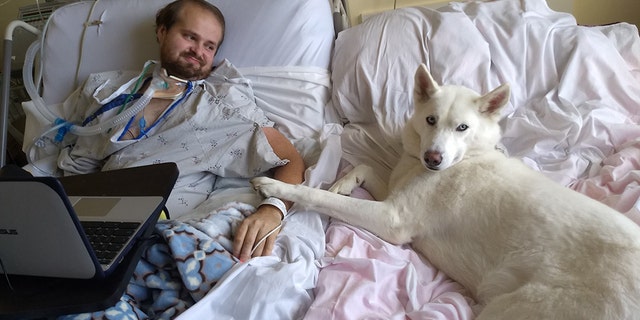 A newlywed couple in Wisconsin were forced to test their vows just days after tying the knot, when a honeymoon cold turned into a life-altering illness for the groom. Adam and Bridget Spoerri, who wed in July, have spent nearly every day since in the hospital as he slowly recovers from a paralyzing polio-like illness that typically strikes in children.
"His head became very weak. He could not swallow and then his breathing was very labored," Bridget Spoerri, who spent one night in her home with husband Adam before rushing him to the emergency room on Aug. 5, told Fox 6 Now.
POTENTIAL LIFE-SAVING PEANUT ALLERGY DRUG ON HORIZON, SCIENTISTS SAY
It would be two months before 30-year-old Spoerri was diagnosed with acute flaccid myelitis (AFM), which his family said they believe he was at risk for due to immunosuppressant drugs he was taking for asthma and Crohn's disease. AFM is a rare, serious condition that affects the nervous system and causes a sudden onset of arm or leg weakness and loss of muscle tone and reflexes. According to the Centers for Disease Control and Prevention (CDC), it may also cause facial droop, difficulty moving eyes, drooping eyelids or difficulty swallowing.
The most severe cases may result in respiratory failure, wherein patients, like Spoerri, will require a ventilator. Most patients recover, but others may face lasting weakness or other complications.
Spoerri and his wife have been communicating via notepad, as he is able to move his hands and wrists to write, according to a GoFundMe page. According to the page, doctors have been weaning him off the ventilator.
DAD FIGHTING FOR LIFE AFTER WEST NILE VIRUS DIAGNOSIS
"I thought he was dying every day those first two weeks," Bridget Spoerri, a high school English teacher, told the Journal Sentinel. "I had no hope."
Spoerri has since transferred out of Aurora St. Luke's Medical Center and is now being treated at the Post Acute Medical Specialty Hospital, a long-term care facility, but it's not clear how long of a recovery he faces.
"Adam and his wife have shown such strength through this entire illness," Taylor Finseth, Spoerri's neurologist at Aurora St. Luke's told the Journal Sentinel. "They really amaze me. The love that his wife shows for him is incredible."