Dad fighting for life after West Nile virus diagnosis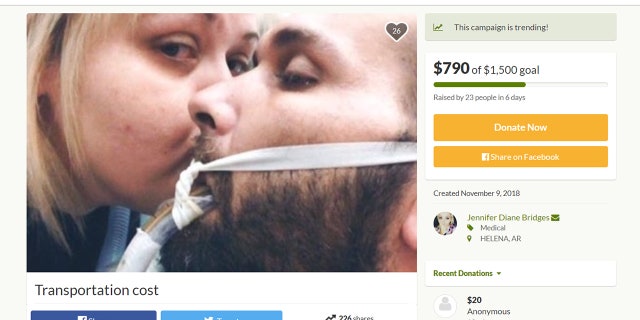 An Arkansas dad of four is fighting for his life after being diagnosed with West Nile virus three weeks ago. Curtis Bridges, 34, initially thought he was battling the flu, his wife, Jennifer, told News Channel 3.
"He was sick," she told the news outlet. "We thought it was like the flu or something. He had fever, chills."
But after five trips to the hospital, including an alleged misdiagnosis for a urinary tract infection, he became unresponsive on Oct. 29. He was airlifted to Little Rock, where he was eventually diagnosed with West Nile. He remains hospitalized on a ventilator and has dropped 45 pounds, according to the family's GoFundMe page.
DUTCH TEEN DIES AFTER INHALING DEODORANT SPRAY TO GET HIGH
The virus is most commonly spread by mosquito bites and can occur during mosquito season, according to the Centers for Disease Control and Prevention (CDC). While some patients may not show symptoms, about 1 in 5 will develop a fever or other illness. About 1 in 150 of these patients develop serious, sometimes fatal, complications. There are no vaccinations against the virus, nor medications to help treat it.
The CDC recommends wearing long-sleeved shirts and pants to prevent mosquito bites and regularly using bug repellent.
"We were told he might not make it," she told the news outlet. "He could be a vegetable for the rest of his life and it could all come from a mosquito."
WOMAN LOSES EYES, PART OF BRAIN TO RARE FUNGAL INFECTION MONTHS AFTER DREAM WEDDING
In addition to the West Nile, Jennifer Bridges' posted on the GoFundMe page that her husband has a blood clot in his right arm, but that there are no further signs of infection.
"This is going to be a long road, so please continue to pray for him," she wrote on the GoFundMe page. "Also, please pray for all those going through their own battles and struggles."