Moment autistic boy bonds with service dog touches thousands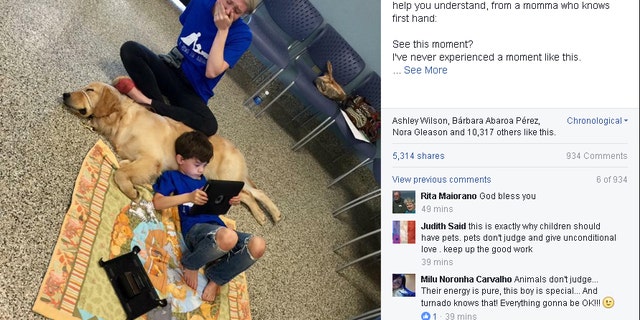 NEWYou can now listen to Fox News articles!
A photo of a mother crying as she watched her autistic son recline on his new service dog has gone viral, gaining over 16,000 likes.
4 Paws For Ability, a Dayton, Ohio-based non-profit that places service dogs with veterans and children with disabilities, posted the picture of the unnamed mother and child on October 18. According to the post, the family traveled the globe to meet the boy's new service dog, Tornado.
In the post, they shared the mother's words.
"This boy is the strongest child I have ever met; he has faced countless rude and ignorant adults and children who do not understand him, who have hurt him, and who have not valued him because he is different," the mother said.
According to the post, the boy doesn't have friends at school or any consistent connections outside family, no matter how hard he tries.
In the photo, the boy is seen resting on Tornado, playing on an iPad while his mom silently cries behind him, covering her mouth.
"…she doesn't want to distract him from the moment and break him away from a pure, honest, and truly fulfilling moment for her son-of his own free will. This is truly magic. Words cannot explain it," the post said.
"It's worth every fight for services for my son, every diagnosis, every new provider, every dollar spent, every paper filled out, every school meeting, every shed tear, every step forward, every step back, and every wonder of the unknown future. Somehow because of this- because of Tornado- I know everything will be okay," the mother said.