Boy gets service dog after saving pennies for 4 years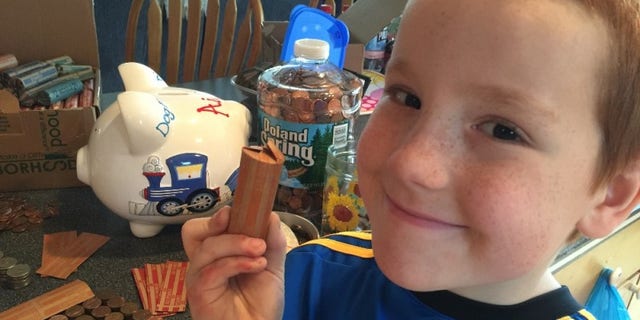 NEWYou can now listen to Fox News articles!
An 8-year-old Vermont boy who had been saving pennies for the last four years recently saw his dream come true after news coverage of his story helped him meet his $15,000 goal. Fox 25 Boston reported that Aiden Heath, of Waitsfield, was diagnosed with type 1 diabetes at age 3 and has wanted a companion to alert him to changes In his blood glucose levels ever since.
"As they say, every penny counts," Aiden told ABC News.
Earlier this year, Aiden was about $9,000 short of his goal, but when media picked up his story, he received an influx of more than $20,000 in donations, according to the Valley Reporter.
Aiden recently put down a payment on a chocolate lab named Angel, who had been training to become a service dog in Nevada. On Monday, Angel arrived at the family's home after passing all of her tests.
"Aiden is over the moon," Jenni Heath, Aiden's mother, told ABC News. "He was on pins and needles waiting for her."