Mom warns about button batteries after toddler placed on life support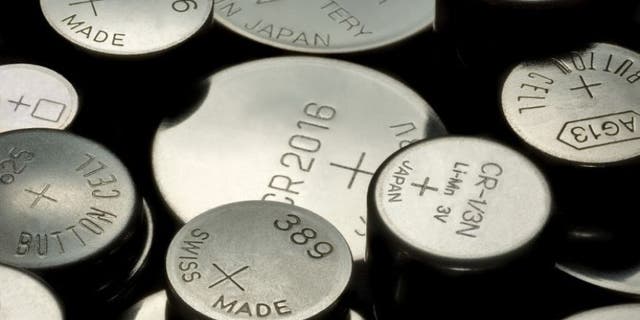 NEWYou can now listen to Fox News articles!
About seven months after 2-year-old Sophie Skill had to be put on life support when she swallowed a lithium battery, the British toddler is on the mend, and her mother is speaking out to warn other parents of the objects' toxicity.
Sophie's mother, Clare, whose last name wasn't disclosed, said Sophie spent six days on life support last fall after suffering acid poisoning from the ingested battery, Metro.co.uk reported. The batteries, which are small, silver and round, are nicknamed "button" batteries. They are commonly used in remote controls, wristwatches, children's toys, and hearing aids among the elderly, according to the Consumer Product Safety Commission (CPSC).
According to the National Institutes of Health (NIH), people who have swallowed one of the batteries may experience abdominal and chest pain, nausea and possibly bloody vomit, but they may also be asymptomatic.
The CPSC warns children can suffer chemical burns within as few as two hours of ingesting the batteries. That effect can prove life-threatening— as was the case for Sophie, whose mother rushed her to the hospital after noticing the toddler was agitated and grabbing the back of her neck.
"She was so distressed, and I just knew she had swallowed something," Clare told Metro.co.uk. "My heart was beating so fast."
Doctors at Sheffield Children's Hospital took an X-ray of Sophie's neck, and the imaging revealed she had swallowed the coin-shaped object. Within two hours, surgeons operated on the little girl and removed it from her windpipe. But swelling in her throat prevented doctors from detecting that the battery had already burned an acidic hole in her esophagus.
When nurses noticed she wasn't healing well, they took an X-ray the next day and detected an acidic hole in her lung. Metro.co.uk reported that doctors input a chest drain and gave her a ventilator to aid in breathing, but the acidic hole kept corroding her esophagus.
Doctors fitted a "T" tube from Sophie's hole to her stomach to properly drain the excess fluid, and they wrapped tissue from Sophie herself around the hole to help it heal, ITV.com reported. Next, doctors put Sophie on life support.
"She was in pain, and I just wanted so much for her to be better," Clare told Metro.co.uk.
In September— two months after the incident— Sophie was finally discharged from the hospital. ITV.com reported that she must take an alkaline tablet each day and that there is no permanent damage from the injury.
Sophie's family has reportedly launched a campaign to raise awareness of the dangers of lithium batteries and is raising funds that will benefit Sheffield Children's Hospital.
In early January, an Oklahoma toddler died six days after swallowing a lithium battery, and her family raised more than $11,000 on GoFundMe to cover her funeral expenses.