Mom shares son's fatal bunk bed tragedy as warning to others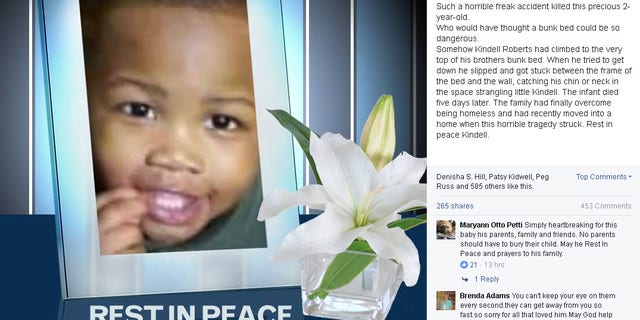 Kindell Roberts, 2, had recently moved with his family into their own home in a new neighborhood after overcoming homelessness. In September, he climbed onto his brother's top bunk bed and as he tried to get down, became stuck and later died after being put on a ventilator.
Kindell's mother, Antoinette Roberts, of Milwaukee, is sharing her loss to ensure no other parent feels her pain.
Roberts, who has five children, left her three youngest in the care of an adult relative when the accident occurred, Inside Edition reported. She believes Kindell got scared at the top of the bunk bed, as she'd never seen him go up there. When he slipped, he got stuck between the bedframe and the wall, catching his chin or neck in the space.
Kindell's 3-year-old sister tried to release him by pulling down, but that caused him to lose oxygen, Roberts told Inside Edition. Kindell died on Sept. 25, five days later.
"My children should have been paid more attention to. This could have been prevented," Roberts told Inside Edition. "It's just hard, leaving one minute and he's around and I come back and he's no longer here."
Roberts hopes her family's story will make others realize that a freak accident can happen to anyone.
"You hear about things … but I really didn't believe things like this could happen to me," she told Inside Edition. "My son was super-duper smart. He's playful. He's talented. He's just an amazing kid all around. I feel like I was robbed and I feel like he was robbed of his life, because he wasn't being watched."
The boy's cause of death is still under investigation, but appears to be accidental, according to the medical examiner's office.