Mom loses finger in freak injury at son's baseball practice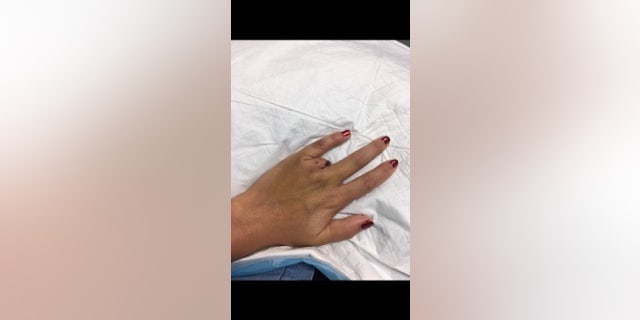 A Tennessee mother who felt some pain after catching her left ring finger on the fence at her son's T-ball practice said she initially thought her wedding band had cut her skin, but then she looked down and realized that her finger was gone.
"When I hopped down, my finger just didn't come with me," Chelsey Brown, of Clarksville, told Fox News.
Brown's husband, Kyle, quickly ripped his shirt off and put it on her hand to stop the bleeding. The two rushed to the car and were met by a nurse who came running from a nearby field.
OPERATION VIDEOS A BAD IDEA, PAPER SAYS
"A nurse from another field came running over to the car and was like 'I'm a nurse, do you need a First Aid kit?' and I was like, 'It's my finger, it's gone,'" Brown said. "She was like 'Where is it?' and I said 'It's still on the gate.'"
Brown's husband went to retrieve her finger, which was hanging on the fence by her ring, while the nurse used a cell-phone charger to form a makeshift tourniquet to stop the bleeding. They rushed to nearby Tennova Healthcare, where doctors arranged for a Life Flight to take her to Vanderbilt University Medical Center in Nashville.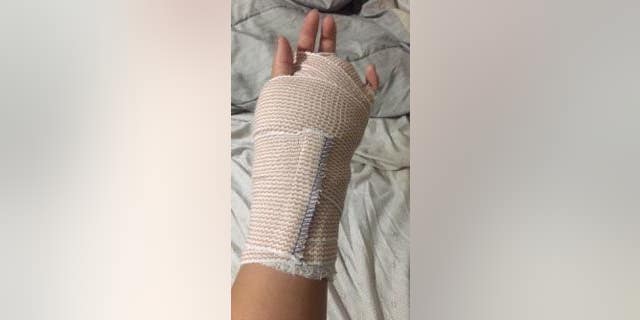 The injury also tore the tendon attached to the finger clean from Brown's elbow, canceling any hope for reattachment. Doctors told Brown that even if they attempted to reattach it, the finger would die within one day.
"The doctor took one look at it and was like 'There's no way I could reattach this. Everything is just so shredded,'" Brown said.
Her recovery has included battling phantom pain, and will require six weeks of physical therapy to help her adapt to the missing finger.
"There's a lot of stiffness in there, and other than that, the phantom pain was definitely the worst," she said. "It would feel like my finger was throbbing or it would feel like my knuckle needed a crack. There was that same pain from when it first happened, and there was nothing I could do at all."
MOM GETS JAIL OVER REFUSAL TO VACCINATE SON
Brown has kept high-spirits throughout her injury and subsequent recovery, and said that while her job as a bank teller proves difficult when handling coins, she's able to see the lighter side of most situations.
"I feel like I'm adjusting well," she said. "I'm a really strong believer in 'everything happens for a reason,' even though I may not know what that reason is for now."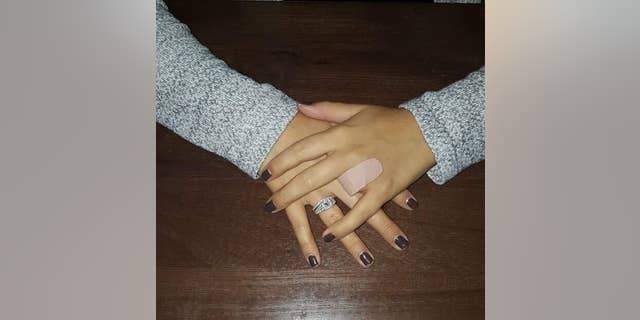 Brown wants others to be aware of the potential dangers that could come from something as seemingly innocent as holding onto a fence. She said she had only hopped down about a foot, and with kids playing nearby she worries that others could get hurt. She called on the park to fix some gaps in the fences that could prove hazardous.
"I just don't want that to happen to anybody else," Brown said. "Some of [the fences] do have a gap that need to be fixed. There's kids out here that could fall and hit their eye, hit their head."