Is gluten-free, carb-free 'cloud bread' actually good for you?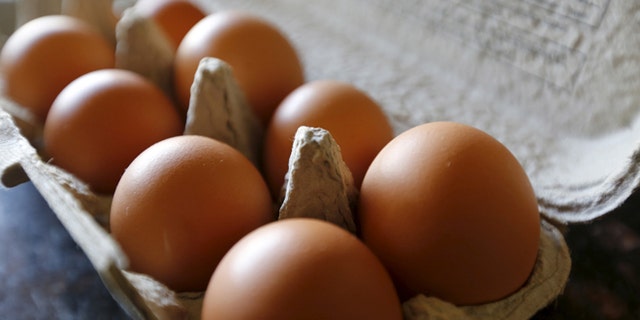 NEWYou can now listen to Fox News articles!
If you hadn't heard of "cloud bread" yet, you were bound to soon. This grain-free, low-carb bread alternative is taking the Internet by storm: The hashtag #cloudbread generates more than 2,000 images on Instagram, and Pinterest ranked it among the top ten trends of 2016.
RELATED: 6 Delicious Bread Recipes
The recipe—which was popularized by food bloggers like Momables and The Big Apple Mama—calls for just three ingredients: eggs, softened cream cheese, and cream of tartar. Some people add a little honey for sweetness. It has a crispy texture when it comes out of the oven, then becomes soft and chewy when stored overnight in a plastic container.
But is it actually good for you?
As an occasional treat, cloud bread is fine, says Health's contributing nutrition editor Cynthia Sass, MPH, RD. But it's definitely not a good idea to eat it instead of whole grain bread, in an effort to clean up your diet or lose weight, she says.
RELATED: How to Revive Stale Bread
"Just because a recipe is grain-free or low-carb doesn't automatically make it healthy, or mean that portions don't matter," Sass explained.
"In cloud bread, the grain flour is primarily replaced with eggs and cream cheese, and the latter isn't a food I recommend upping your intake of," she said, since cream cheese is high in saturated fat.
Moreover, while cloud bread may have fewer calories than whole grain bread (about 40 calories per slice versus 80), it lacks many of the nutrients in the real deal—like fiber, which has been shown to help lower blood sugar, cut cholesterol, and reduce colon cancer risk. Whole grains offer a slew of other health benefits, too. They deliver essential minerals and vitamins, aid digestion, help reduce belly fat, even protect your teeth and gums.
RELATED: 16 Whole Grains You Need to Try
If you are sensitive to grains, however, there are other alternatives more nutritions than cloud bread, Sass said. She recommends bread made with flour that comes from pulses, like chickpeas, or starchy vegetables, like potatoes.
And if you're thinking about cloud bread as part of a no-carb diet, you may want to rethink the diet altogether, Sass said. Carb-free diets often backfire, she explains, because they tend to leave people hungry. And when you're hungry, you're more likely to turn to unhealthy fats—which can prevent weight loss, or worse, trigger weight gain.
"Aim to cut back on carbs instead of completely eliminating them," she said. "If you're craving bread, choose one with nutrient-rich, whole food ingredients, rather than processed ingredients. And stick to one slice rather than two."