Ironic Twist: Mexican Immigrant Having A Hard Returning Home To Die In Peace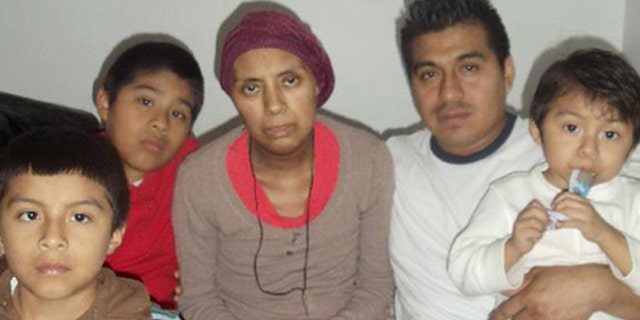 Diagnosed with cancer that is rapidly eating up her throat, stomach, and lungs, a mother of three has one dying wish: to spend the last days of her life in her native Mexico.
Leticia Ponce, who moved from the municipality of Jolalpan in the Mexican state of Puebla nine years ago, has lived the American Dream. She made it to the U.S., settled in Elizabeth, N.J., and is raising three young sons with her husband, Saúl Castro.
But after being diagnosed with terminal cancer, all she wants to do is return to the place of her birth before she dies.
But her deteriorating condition has prevented her from even traveling 15 miles to the Mexican consulate in New York City so she could renew her passport. Adding to her woes, she can't leave the U.S. in her condition without the approval of a doctor – and the doctor says she's too sick to travel.
"If she doesn't get a little bit better, she won't be able to travel and her last wish won't be fulfilled," her grieving husband told Diario de Mexico, a Spanish-language daily newspaper in New York.
Her doctor, Dr. Dale Schaar of Robert Johnson Hospital in New Brunswick, N.J. said she could not travel to Mexico until she showed progress in her cancer battle and became stronger.
But Ponce does not seem to be improving, and she's wondering whether she will ever be able to return to her home country. Her immigration status is unknown.
Ponce and her family aren't dealing with this crisis all alone, though.
After a story about her plight ran in the Diario de Mexico, calls of support began pouring in from around the New York metropolitan area and a local business owner, Elvis Rocha, set-up a money-box to collect donations for the family.
While the financial support helps the family pay her mounting medical bills, her doctor said her travel plans still depend on her health. And she cannot update her passport because federal law prohibits anyone other than the passport holder from renewing the federal document.
Follow us on twitter.com/foxnewslatino
Like us at facebook.com/foxnewslatino