Hunters expected to recover from injuries after being mistaken for actual turkeys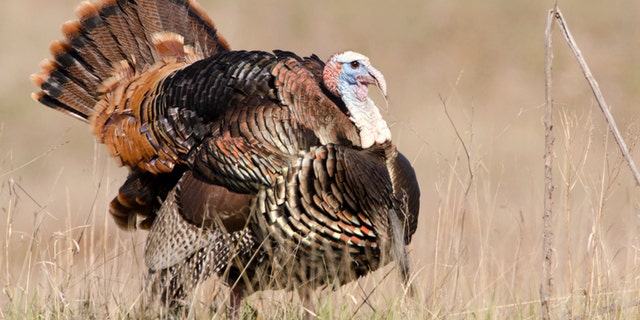 NEWYou can now listen to Fox News articles!
A hunter who believed he had taken down a pair of turkeys set out to find the birds, only to discover his brother and friend wounded on the ground. Kenneth Dienst, who was out hunting with the victims on the opening day of turkey season in Kansas, accidentally shot the pair after mistaking their disguises for real birds.
"Right after he shot, he thought he saw a turkey flopping on the ground, but when he hurried up there, he saw two guys rolling on the ground," Jim Bussone, a Kansas Department of Wildlife, Parks and Tourism game warden, told The Wichita Eagle. "He'd shot [both] in the face. The shooter swore he'd seen strutting toms and some other turkeys right up until then."
UTAH MAN INITIALLY DENIED TRANSPLANT OVER POT USE DIES FROM COMPLICATIONS, FAMILY SAYS
The victims, identified as Gary Dienst and Justin Wiles, had been hiding behind preserved turkey tail fans, meant to act as a decoy to attract other birds, The Wichita Eagle reported.
Bussone told the news outlet that while the hunters were initially spread across two properties, the two victims returned to where Diesnt was hunting without notifying him. Bussone inferred that the tragic accident could have been prevented, calling the pair's failure to communicate with Diesnt "one of the cardinal sins we teach against in hunter ed."
SURGEONS REMOVE PENCIL FROM BOY'S CHEST AFTER FREAK ACCIDENT NEARLY KILLS HIM
"They were calling to each other and sneaking up on each other like two toms coming at each other," Bussone told The Wichita Eagle. "Both swore they were sneaking on real turkeys."
Crawford County Sheriff Dan Peak told Parsonssun.com that the victims were able to walk to a nearby truck and are expected to recover from their injuries. An investigation is ongoing.