How to Be Comfortable at the Gym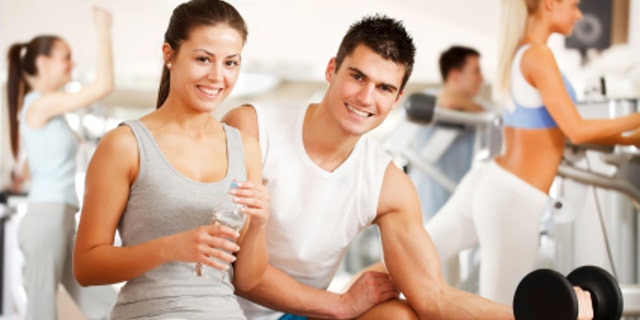 NEWYou can now listen to Fox News articles!
Joining a new gym is a great way to jump-start your motivation and fitness routine. But the gym can be an intimidating place, especially if you've never joined one before. And it's not just rookies. Even those who are already members can sometimes feel overwhelmed by the plethora of mysterious machines and sea of seemingly in-shape people.
Here are some suggestions to help you feel more comfortable at the gym:
Set up an orientation
Most gyms offer new-member orientations when a trainer shows you around, teaching you how to use the equipment. This service is usually free, so be sure to take advantage of it. You'll feel much more comfortable during your workouts.
Remember, the gym isn't just for "fit" people
It's for everyone—no matter what your fitness level, shape, size, age, etc. You're one of the many different people who use the gym, and you're all there with the goal to become healthier—and that's most important.
Don't be intimidated by those around you
Most people who go to the gym just want to get in, get their workout done, and get out. A lot of the time, people are so focused on themselves and their workout, they're not paying attention to anything else. But if you do get a few looks, why not show those people what you're capable of?
________________________________________________________________________________
More From Health.com:
3 Mistakes You're Making at the Gym
10 Fun Ways to Get Fit Without a Gym
A Strength Workout for Healthy Bones
________________________________________________________________________________
Know that everyone started out as a newbie
It might seem like everyone knows what they're doing at the gym, but remember that they all started out as a beginner at some point. In fact, some people were in your shoes just a few months back, and soon you won't be the new one anymore either.
Don't be afraid to try an exercise class
Check out the group exercise schedule and see if any classes look fun to you. You don't need to be fit to take a class—they're typically designed for all skill levels. Before a session begins, let the instructor know you're new, and they'll get you acclimated. Group exercise classes are also a great way to learn the basics of exercise. Most instructors talk nonstop and interject advice throughout the class.
Hire a personal trainer
Even just a single session with a personal trainer can set you up with a full workout based on your individual goals. The trainer will also educate you on good form, teach you how to use the equipment, and support you as you learn new exercises.
Visit during off-peak hours
Most gyms are busy in the early morning, lunch time, and after work. To avoid the crowds, schedule your workouts for mid-morning, mid-afternoon, or late at night, which could make you feel more at ease
Implement the buddy system
Recruit a friend or family member to join with you. Having a gym buddy is a great way to stay motivated and stick with it.
Tina Haupert is a healthy lifestyle blogger who writes a weekly feature for Health.com as part of the Feel Great Weight plan.