Georgia boy with fatal disease becomes honorary solider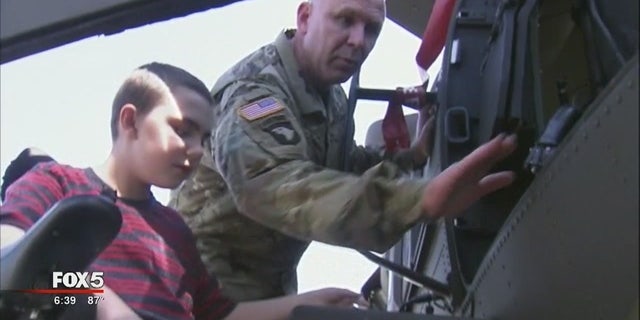 Chase Howard turned 10 on Monday, and while he made a special request for birthday cards, his community responded with much more. On Sunday the Georgia boy was treated to a limousine ride and thrown a special birthday party that featured race cars, horses, motorcycles and Spider Man, but the highlight came when he was made a soldier for a day.
Howard was diagnosed with Duchenne Muscular Dystrophy, a fatal disease that has robbed him of mobility in his legs. He told Fox 5 Atlanta that when he gets to heaven he'll ask for new legs, but before that he wants to be a soldier.
The Georgia Department of Defense heard his request and was on hand at Sunday's festivities. Howard visited the National Guard hanger, as well as aviation and civil support. He was then sworn in as an honorary soldier and given a certificate to commemorate the day.
Duchenne Muscular Dystrophy affects fewer than 200,000 people in the United States each year, Fox 5 Atlanta reported. The average life expectancy for patients is 25. This week, the Food and Drug Administration tentatively approved the first-ever drug for the disease.