Georgia boy who got new heart celebrates first birthday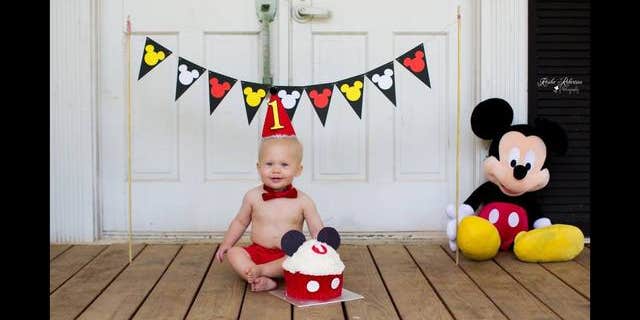 NEWYou can now listen to Fox News articles!
Little Kaleb Waddleton is celebrating his first year of life after a heart condition diagnosis required an early heart transplant.
Fox 5 Altanta reported that Kaleb, who turned 1 on Thursday, was born with dilated cardiomyopathy. According to the National Institutes of Health (NIH), dilated cardiomyopathy is a condition wherein the heart is weakened and enlarged, which prevents the organ from pumping enough blood to the rest of the body. It is the most common type of cardiomyopathy. Exact prevalence of the disease is unknown, according to the Cleveland Clinic, but estimates suggest it affects .4 per 1,000 Americans.
Kaleb's parents initially thought their newborn simply had a cold, Fox 5 Atlanta reported. When they learned his true diagnosis, the little boy spent months at Children's Healthcare of Atlanta before receiving a new heart on Dec. 4, 2015.
"God blessed me with one strong little boy," his mother, Marissa Waddleton, said on Facebook Thursday morning. "Three months of his life were definitely the hardest, but looking back at it today it was only a short period of his life that he will only remember what I tell him and the pictures I show him."
To celebrate Kaleb's first birthday, the Covington, Ga., family is throwing a Mickey Mouse-themed party on Saturday.
A six-month checkup to evaluate his new heart is also cause for celebration. Tests revealed the 1-year-old's body isn't rejecting the transplanted organ. Kaleb's parents also predict he'll be walking soon.
"I wake up and go to bed thanking God that Kaleb is just now a normal 1-year- old who is so full of life," Marissa Waddleton told Fox 5 Atlanta.