Former NFL Star Dave Duerson Had Brain Damage at Time of Suicide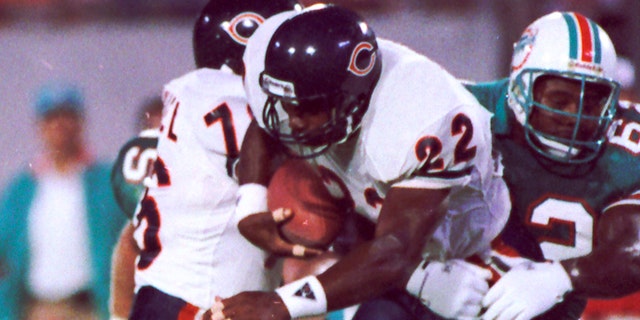 BOSTON – The brain of former Chicago Bears safety Dave Duerson, who killed himself in February, was found to display "classic" and "moderately advanced" symptoms of brain damage, the Chicago Sun-Times reported Monday.
In conjunction with his last wish, doctors at Boston University examined Duerson's brain to study chronic traumatic encephalopathy (CTE), a degenerative disease common to boxers, football players and others who experience multiple concussions and head injuries.
"When you look at [Duerson's] brain microscopically, it's indisputable," said Dr. Ann McKee, the director of Neuropathology Care at Boston University's Alzheimer's Disease Center. "He has the classic appearance of [CTE]."
"He had severe involvement of all the structures that affect things like judgment, inhibition, impulse control, mood and memory," Dr. McKee added, according to the Sun-Times.
Duerson's family requested the findings be made public.
"My father was a man of many accomplishments, both on the field and off the field. With these accomplishments came many battles," Duerson's son Tregg said, according to the Sun-Times. "It is my greatest hope that his death will not be in vain, and through this research, his legacy will live on."
The NFL, which has made concussions the focal point of its policy toward improving game safety, commented on the findings Monday.
"Our Head, Neck and Spine Medical Committee will study today's findings, and as a league we will continue to support the work of the scientists at the Boston University Center and elsewhere to address this issue in a forthright and effective way," the league said, according to NBC Sports' Pro Football Talk.
"We also will continue to ensure that concussions are properly treated in the NFL, expand the help we are providing to our retired players, further evaluate playing rules and policy changes to reduce and prevent unnecessary contact with the head."
The NFL has provided $1 million to the CTSE to help further research at the center, according to the Sun-Times.
Duerson, 50, was found dead with a self-inflicted gunshot wound to the chest at his home in Miami, Fla., on Feb. 18.
The four-time Pro Bowl safety, who had 10 known concussions during his 11-year NFL career, had filed for bankruptcy in September.
Duerson starred at Notre Dame and played for the legendary Bears defense that powered the team to victory in Super Bowl XX. He was elected to four straight Pro Bowls from 1986 to 1989 and also won a second Super Bowl with the 1990-91 New York Giants.
According to the report, the Center for the Study of Traumatic Encephalopathy (CTSE) at Boston University has more than 70 brains of former athletes and military veterans.