For men with Crohn's disease, sex can be a challenge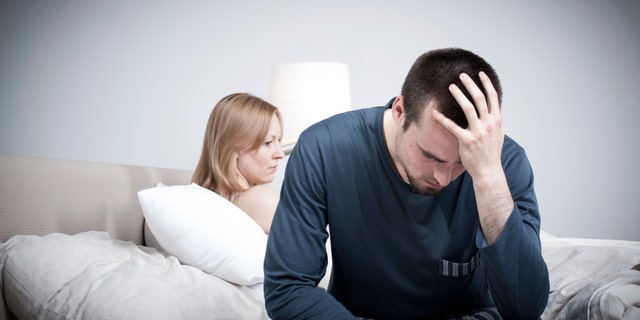 Over the course of 32 years, Michael A. Weiss has been hospitalized more than 250 times and undergone about 30 surgeries, all due to a diagnosis he got at age 21— Crohn's disease.
Though he had an active sex life, Weiss, of West Orange, New Jersey, said he could never fully open himself up.
"It was sex, but it wasn't intimacy," Weiss, now 53, said.
Initially, he was afraid that he might eat something that would cause him to pass gas or have to run to the bathroom while he was having sex. As he got older, he became more comfortable with the unpredictability of the disease, but he still had a fear of intimacy because he didn't want to bring the disease into a relationship.
"I didn't understand how I could possibly be intimate with somebody given all of the issues I thought I had," he said.
Crohn's disease and sex
Crohn's disease causes chronic inflammation of the gastrointestinal tract, is usually diagnosed before age 35, and can get worse over time.

Approximately 1.6 million people have IBD, which includes Crohn's disease and ulcerative colitis, and it affects men and women equally, according to the Crohn's and Colitis Foundation of America. Yet a recent study from the Centers for Disease Control and Prevention (CDC) showed IBD is on the rise and more than 3 million adults may have it.
Symptoms of Crohn's disease can include abdominal pain, diarrhea, constipation and rectal bleeding. Between 20 to 25 percent of people with Crohn's disease also have inflammation around their anus, also known as perianal Crohn's disease.
For obvious reasons, people with Crohn's disease feel embarrassed and often have a hard time talking about it with anyone, but especially with a partner.
The lack of control that Crohn's disease brings is also challenging. People worry whether they'll be able to eat new foods, such as during the holidays or on a date, if they'll have symptoms and if they'll have to run to the bathroom at a moment's notice. They're also vigilant about flare-ups, when their symptoms become active.
Add sex into the equation and life becomes even more difficult.
"You can imagine the fear and embarrassment that might come from feeling like you don't have good control when you're trying to become close to someone or be sexually active," said Dr. David Rubin, a professor of medicine and chief of gastroenterology at the University of Chicago Medicine.
It's common for men with Crohn's disease— regardless of sexual preference— to have a fear of intimacy and lack of desire because of physical symptoms such as fecal incontinence or passing gas.
Men are also more likely to have sexual dysfunction. In fact, 38 percent of men with IBD said their condition affected their desire for sex, 26 percent said it prevented them from having sex and 18 percent said it caused problems during sex, a study in Healio Gastroenterology found.
The same study found men 50 years and older had lower sexual satisfaction, more difficulty getting and keeping erections and a poorer quality of their erections.
Men over 50 already have an increased risk for erectile dysfunction and prostate problems, but for men with Crohn's, it can make sex even more complicated.
For men who have undergo surgery for an ostomy or ileoanal pouch, there is a small risk that men can have erectile dysfunction, retrograde ejaculation, or impairment of the pelvic autonomic nerves which control erection and ejaculation.
These conditions are rare, though.
"Contrary to what many people think, it restores quality of life and makes patients with Crohn's feel much much better," he said.
Studies show that depression, anxiety and poor body image are common in those with Crohn's disease and especially when the disease is active, which can also affect sexual function, said Dr. Sashidhar Sagi, a gastroenterologist at Indiana University Health in Indianapolis, Indiana.
Patients and doctors must work together
Experts agree that most doctors don't talk to their patients about sex. In fact, approximately 14 percent of GI physicians routinely ask their patients about sexual function and approximately 53 percent rarely or never do, according to a survey presented at the American College of Gastroenterology 2014 meeting.
Of the doctors who were willing to talk about it, only 27 percent said they felt very comfortable doing so, 38 percent only discuss it when they think there's a problem and 25 percent do so if the patient brings it up.
"[It's] how comfortable we are in talking to a patient and also how comfortable the patient is in bringing this up," Sagi said.
Regardless of how difficult it may be for men, doctors can give patients tips for how to talk to their partners about their condition and can refer them to a sex therapist or a mental health professional.
They can also recommend support groups or programs that will match them with another man with Crohn's in the same age group.
"When they meet someone else who has the same problem, it enables them to talk and understand how they might cope with this a little bit better," Rubin said.
For Weiss, overcoming sexual problems was work he did on his own. Earlier this year, when he was diagnosed with another debilitating disorder, he realized that it was now or never for him to find true intimacy and happiness.
He's now in a new relationship with a woman he dated more than 30 years ago and he's finally able to be vulnerable.
"I think it's a combination of me being comfortable in my own skin and perhaps, the right person," he said.
Although men with Crohn's may have symptoms when they eat certain foods, the good news is that when the bowel is healed, and the disease is under control, their sex lives can improve.
"Crohn's disease, more than ever before is treatable and so people should not be living with active disease without seeing an expert and making sure they're getting proper treatment," Rubin said.