Florida fire station welcomes 9 babies in 10 months
A Florida fire station that welcomed nine babies to its firefighter family over the last 10 months arranged for a touching photoshoot featuring the infants and their proud parents. One of the photos featured the three moms and six dads of the Davie Fire Rescue standing side-by-side in their gear with their babies, who were all wearing matching onesies.
"Baby Boom!" Davie Fire Rescue tweeted out on June 8. "9 babies were welcomed to our fire family over the last 10 months! We had the opportunity to get all of the firefighters (mother or father) together with their infants for a quick photo shoot."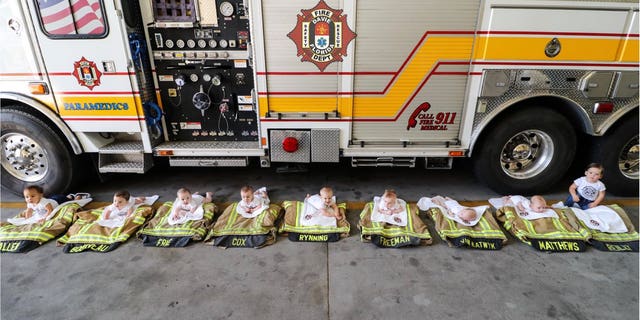 Another photo featured the infants laying side-by-side on their respective parents' jacket, while a third included other family members posed in front of a firetruck.