Family speaks out after hospital dismissed boy's heart disease as viral infection 3 times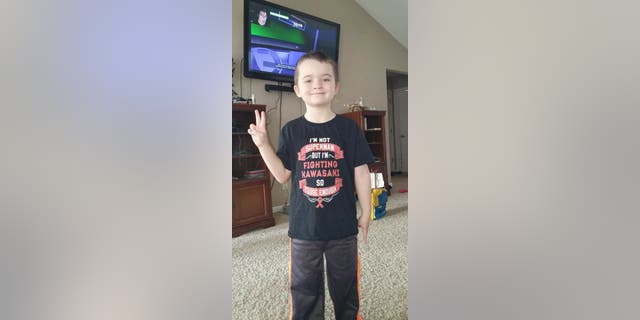 One year after a rare pediatric disease was dismissed as a viral infection and nearly killed their 7-year-old son, a Indianapolis family is working to raise awareness in hopes of saving others who may have it. Jamie Jones had visited the emergency room three times with a fever and other symptoms before doctors diagnosed him with Kawasaki disease on the fourth trip.
The disease is an illness that affects the skin, mouth and lymph nodes, and most often strikes kids under age 5. Though the cause is unknown, it can lead to serious complications that can affect the heart. Symptoms include fever, redness in the eyes, rash on the skin, cracked lips, swollen tongue, irritated throat, swollen palms or soles of the feet, and swollen lymph nodes. Children may also develop joint pain, diarrhea, vomiting or abdominal pain.
"If I moved, it hurt like crazy," Jamie told Fox 59. "I couldn't even move. I wouldn't eat, I wouldn't drink because it would hurt too much. It was crazy."
Jamie received treatment, but the disease reached his heart before doctors detected it. He suffered three aneurysms in his heart and one in his celiac artery, his mother, Jessica, told the news outlet. He's picked up swimming to replace football and wrestling, and wears a heart monitor to deal with chest pain.
"It's like the only thing that's good for my heart, and I want to make my heart better so I don't have to go with all this medicine and everything," Jamie told Fox 59 of his heart monitor.
The Jones family has set up a Facebook page to warn others about the harrows of Kawasaki disease, and Jessica is urging other parents to trust their instincts when their child falls ill.
"If you have that instinct that something's just not right despite a medical professional telling you otherwise, I definitely think you should keep trying and don't give up," she told Fox 59.