Doctors Halt Surgeries in Paraguay After Dengue Fever Crowds Hospitals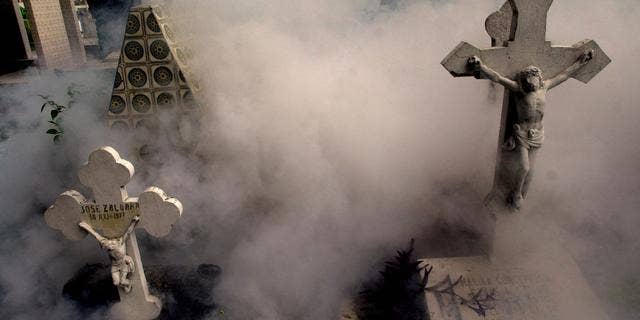 Paraguay has suspended all elective surgery because hospitals are overcrowding with patients infected with dengue fever.
Deputy Health Minister Edgar Gimenez said Wednesday the drastic measure is being taken to free up beds. There have been 18 dengue-related deaths in the country this year, and 13,000 patients are crowding public hospitals, officials said.
Gimenez announced Wednesday that the public health system wants to hire 2,000 new doctors and nurses to try and deal with the growing epidemic.
It's unfortunate it took deaths to make people eliminate standing water where dengue-bearing mosquitoes breed, he said.
There is no vaccine for so-called bone-break fever, which causes strong pain, nausea, vomiting and diarrhea. With many patients getting treatment privately, more than 20,000 are thought to be infected overall, said Health Ministry official Ivan Allende.
Paraguay's toll is already higher than in all of 2007, when 17 died of dengue. Last year, Paraguay had 15 deaths, and in 2009 and 2008, suffered no dengue deaths. Neighboring Argentina has reported just one case this year, and dengue infections are down 37 percent in much larger Brazil, where 51 people died and 155,613 cases were reported in January and February of this year.
All three governments have dengue prevention campaigns, especially in subtropical areas where mosquitoes spread more easily. Last year, Brazil's dengue cases jumped 90 percent and deaths nearly doubled as dengue strains spread to where people lacked immunity.
The dengue outbreak has prompted governments throughout Latin America to ramp up dengue prevention campaigns. About 1.5 million people in Latin America were infected with dengue and over 1,000 people in the region died of the disease in 2010.
Exposure to a single strain of the disease helps create immunity to that particular variant, but subsequent infection by a different strain can cause the sometimes fatal hemorrhagic dengue.
Based on reporting by The Associated Press.
Follow us on twitter.com/foxnewslatino
Like us at facebook.com/foxnewslatino