Couple suing Johnson & Johnson over talcum powder wins $37 million judgment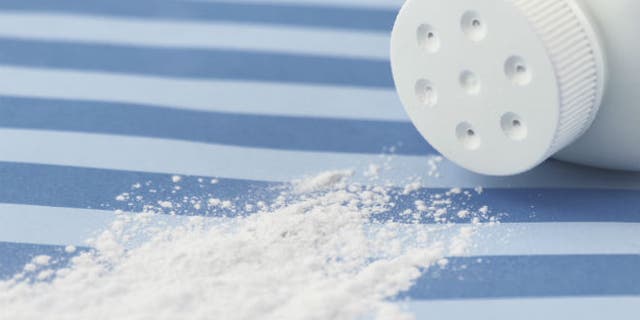 An investment banker from New Jersey and his wife walked out $37 million richer from a court in New Brunswick Thursday, after a jury ordered Johnson & Johnson and a talc mining company to pay for causing him to develop a deadly cancer linked to asbestos.
The verdict is the first time a jury has backed a consumer's claims that the company's baby powder causes mesothelioma, Bloomberg reported.
The lawsuit was brought by Stephen Lanzo, who said he developed the often-fatal lung cancer after inhaling dust that was generated through his regular use of J&J talc powder products since 1972.
CLAIRE'S PULLS 17 MAKEUP PRODUCTS THAT TESTED POSITIVE FOR ASBESTOS
According to Lanzo's lawyers, officials of J&J and Imerys, its talc supplier, were worried that asbestos were tainting talc and other products as early as 1969.
The jury awarded Lanzo $30 million and his wife $7 million in compensatory damages.
"While we are disappointed with this decision, the jury has further deliberations to conduct in this trial and we will reserve additional comment until the case is fully completed," Carol Goodrich, a spokeswoman for Johnson & Johnson, said in a statement to NJ Advance Media.
RESEARCH FINDS TALC DOESN'T CAUSE CANCER; JURIES DISAGREE
The jury will return on Tuesday for further proceedings to determine whether to award punitive damages, according to an online broadcast of the trial by Courtroom View Network.
The Lanzos did not respond to Reuters request for comment.
J&J, based in New Brunswick, New Jersey, faces talc-related lawsuits by 6,610 plaintiffs nationally, largely based on claims it failed to warn women about the risk of developing ovarian cancer by using its products for feminine hygiene.
Reuters contributed to this report.