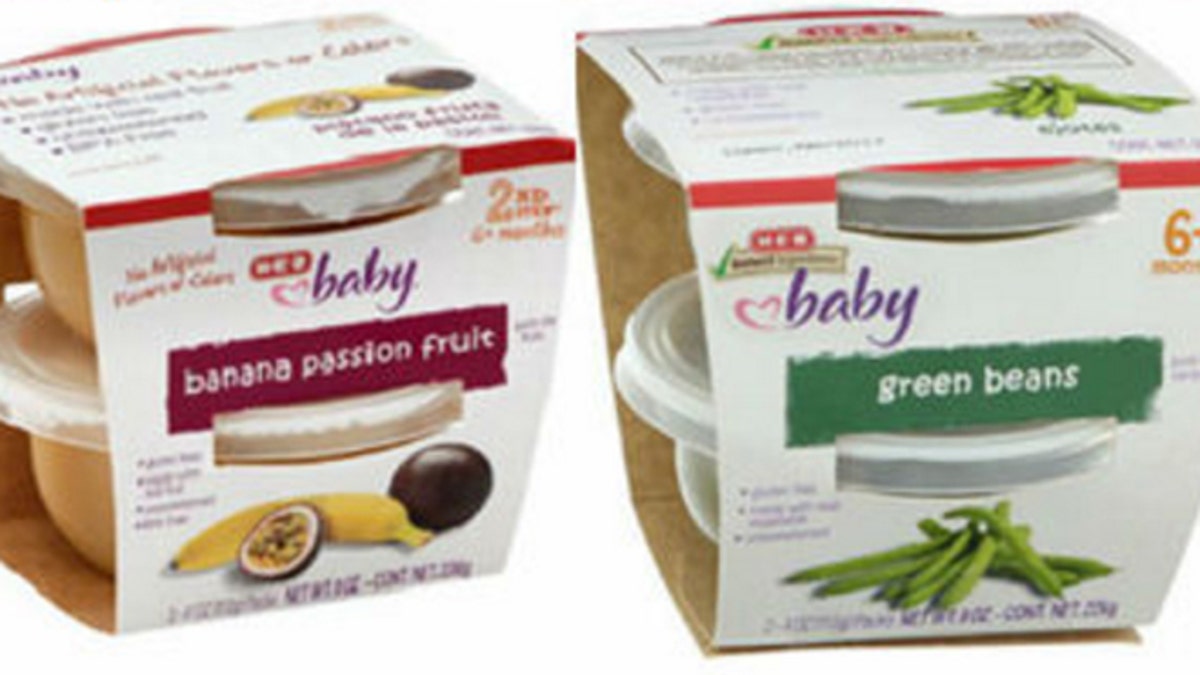 A Texas-based baby food company has issued a precautionary recall of its entire H-E-B Baby Food 2 pack 4 oz. cups after a customer reported finding a small piece of rubber inside the product. H-E-B removed the item from store shelves but has not received any reports of injury or illness related to the recall.
"Though we have only received one report of a foreign material in H-E-B Baby Food 2 pack 4 oz. cups, as a company, we are committed to absolute and complete food safety," Winell Herron, H-E-B group vice president of public affairs, diversity and environmental affairs, said in a news release. "As a result of that commitment, coupled with the fact that we are dealing with a children's product, we have made the decision to pull all of our H-E-B Baby Food 2 pack 4 oz cups from our shelves."
The company has launched a full investigation and is working with H-E-B Baby Food manufacturer to ensure proper safety measures are in place, it said in the release. The company encourages customers who have purchased affected products to return it to an H-E-B store for a full refund.
The recall affects the following products:
HEB BABY BANANA PASSION FRUIT 4122081488
HEB BABY BANANA PINEAPPLE MNGO 4122084761
HEB BABY GREEN BEANS 4122005670
HEB BABY BANANA APPLE 4122000208
HEB BABY GREEN BEANS CORN 4122005671
HEB BABY BANANA
4122083207
HEB BABY SQSH SWT CORN TOMATO 4122066357
HEB BABY PEAR CARROT BLUEBERRY 4122005673
HEB BABY PEAS CARROTS 4122005685
HEB BABY VEG CHKPEA MIX 4122005668
HEB BABY BANANA CARROT MANGO 4122025540
HEB BABY APL CRRT PMPKN ZCCHNI 4122054253
HEB BABY SWT POT PMPKN ZCCHNI 4122066026
HEB BABY PEAS 4122005684
HEB BABY APPLE 4122081487
HEB BABY PEAR PINEAPPLE ZCCHNI 4122018455
HEB BABY PEAR PEAS ZUCCHINI 4122079172
HEB BABY SWEET POTATO 4122005686
Customers are encouraged to call H-E-B Customer Service at 1-855-432-4438 on Friday, Nov. 18 until 11 p.m. CST, Saturday, Nov. 19 and Sunday, Nov. 20 from 9 a.m. to 7 p.m. CST and Monday through Friday, 8 a.m. to 8 p.m. CST thereafter with any concerns.