City quarantines hundreds of cats amid bird flu outbreak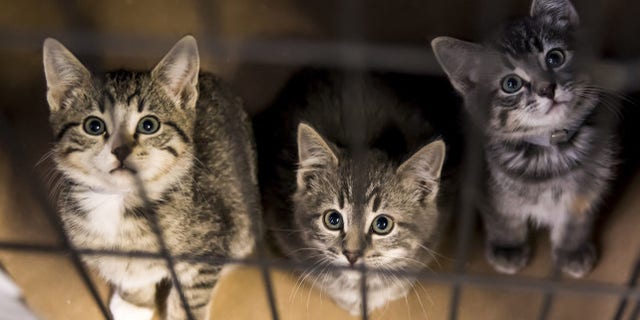 NEWYou can now listen to Fox News articles!
This is a cat-astrophe!
A rare strain of bird flu has swept through the Big Apple's animal shelters — and city officials have locked up about 500 felines in a quarantine facility to stop the outbreak.
So far, 386 of the purring patients have tested positive for the H7N2 virus — the first time the disease has even been found in cats, officials said.
Two of the cats have died, along with the original host: a Bronx shelter adoptee named Alfred, who became sick in October.
But workers have no plans to put down any of the sick cats and instead will treat them for the virus, which has baffled the medical staff.
It was unclear how Alfred caught H7N2, which remains contagious for up to three weeks, officials said.
Even though it is considered only slightly transmittable to humans, workers are taking no chances — wearing hazmat suits whenever they are in the room with the furballs.
The cats were rounded up from shelters in all corners of the city over the last two months and taken to a makeshift facility in an industrial section of Long Island City, Queens, set up by Animal Care Centers of New York City and the Mayor's Alliance for NYC's Animals.
The sick felines are being tested by workers from the Shelter Medicine Program at the University of Wisconsin School of Veterinary Medicine and the process could take up to three months, officials said.
Click for more from The New York Post.