Breastfeeding pilots' claims against airline seen as advance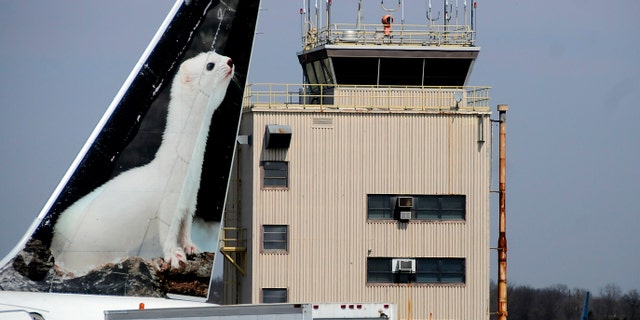 NEWYou can now listen to Fox News articles!
Charges by four female pilots that Frontier Airlines' policies for pregnant women and new mothers are discriminatory could be seen as progress, an advocate says.
Decades ago, flight attendants were pushing just to keep their jobs after they became pregnant, said Phoebe Taubman, senior staff attorney with the advocacy group A Better Balance.
The discrimination claims filed with the Equal Employment Opportunity Commission this week on behalf of the pilots by the American Civil Liberties Union address leveling the playing field for women who are entering the workforce in increasing numbers and new positions, Taubman said.
"It's a very different workplace," said Taubman, who is not involved in the case.
The pilots, with help from the ACLU and the New York law firm of Holwell Shuster & Goldberg, are pushing the airline to change policies on maternity leaves and make it easier for new mothers to pump breast milk in private after returning to work.
"Each of us tried to work with Frontier to find a solution, but unfortunately our efforts went nowhere," one of the pilots, Brandy Beck, said in a statement Tuesday, a day after filing documents with the EEOC.
"Because of Frontier's failure to address the needs of pilots who are breast-feeding on a policy level, each of us has been left to figure out these problems on her own," she said.
Frontier said it complies with federal and state laws and with its agreement with its pilots association.
"The duties of a commercial airline pilot present unique circumstances," Frontier added. "We have made good-faith efforts to identify and provide rooms and other secure locations for use by breast-feeding pilots during their duty travel."
In documents filed with the EEOC on Monday, Beck, Shannon Kiedrowski, Erin Zielinski and Randi Freyer described their struggles to get Frontier to provide places for them to pump breast milk during work days that can last more than 12 hours and include flights of up to five hours on schedules lasting up to five days.
Frontier has designated a room for breast-milk pumping at its hub at Denver International Airport, but the pilots said it was not always convenient to their gates and that such rooms were not always available at other airports.
Kiedrowski told the EEOC she has pumped in an airplane restroom. On one occasion, she was given a written reprimand and told that leaving the flight deck to pump raised safety issues, she said.
Kiedrowski is the most senior of the four, having joined Frontier in 2002. Beck has been with Frontier since 2003, and Zielinski and Freyer since 2013.
Jeff Nowak, a Chicago attorney who has represented employers in such cases, said the EEOC has said employers must accommodate "lactation issues" as they would any employee's medical needs. He said the Denver airport room provided for pumping might be considered adequate accommodation.
Nowak is not involved in the Frontier case,
The pilots also described to the EEOC failed attempts to get assignments outside the cockpit that would have let them work longer and continue earning while pregnant. Frontier, they said, requires pregnant pilots to go on maternity leave following the 32nd week of pregnancy.
Taubman, of A Better Balance, said that such forced-leave policies are not uncommon and stem from concern about an employee going into labor while on the job. However, she said alternate duties can help an employer by retaining the experience and expertise of a worker, who gains critical earnings.
Taubman added that airline and airport managers need to consider the needs of working women customers who are traveling and may need a place to pump milk or breast feed. "We work a lot in the context of the workplace, but it's broader than that," she said.