Brain tumor shrinking for 1-year-old kissed by Pope Francis, family says
NEWYou can now listen to Fox News articles!
During Pope Francis' visit to Philadelphia in September, one of the children brought to the popemobile was Gianna Masciantonio, a 1-year-old with a rare brain tumor. Last week, her parents said that the tumor has shrunk significantly.
According to Philly.com, Joe Masciantonio said his daughter's tumor was "basically gone" after many rounds of surgery and chemotherapy. One family friend dubbed the girl's encounter with the pontiff "the Miracle on Market Street."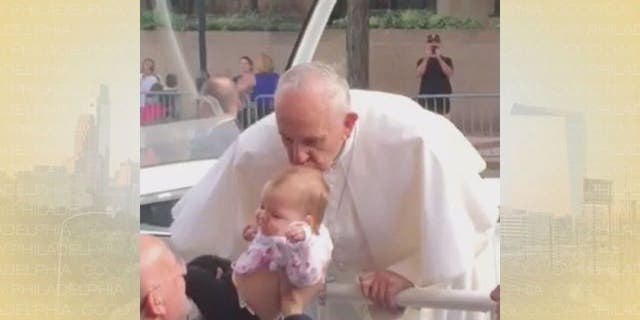 Gianna's brain tumor was thought to be inoperable, and doctors had given her only months to live. According to PhillyVoice.com, the tumor formed after her blood cells attacked her brain stem weeks after she was born.
The aforementioned friend was FBI agent Donny Asper, who tipped off the family of Pope Francis' planned stopping point on Sept. 26. Gianna's mother, Kristen, had dreamed of her daughter meeting the pope.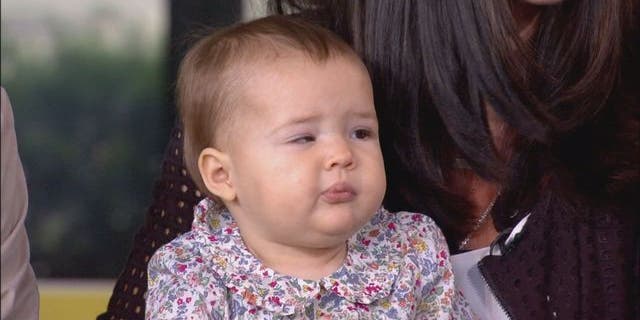 "She was just dead-set," Joe told Philly.com. "I'm the dad who didn't want to see the pope."
Joe was worried about his daughter's immune system, which was already weakened by radiation and going out on a hectic day, but her doctor encouraged them to go. The Philadelphia Police Department waved the popemobile over and the Pope saw the family, Joe told the Daily News.
Looking at brain scans from August and November, the later MRI shows almost no evidence of Gianna's tumor.
"I don't even know how to describe that feeling," Joe said. "The miracle is all the people who prayed. The pope is just the messenger that God heard."