Ailing New York girl, 12, blessed by Pope Francis believes 'the miracle has begun'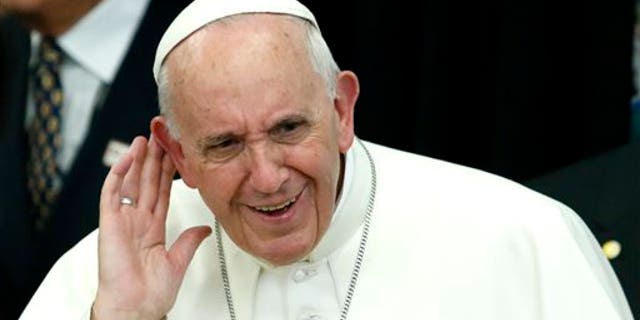 Julia Bruzzese believes in miracles.
The 12-year-old from Brooklyn, N.Y., has been forced to use a wheelchair after a sudden paralysis that has baffled doctors.
But when Julia, who is in the seventh-grade at St. Bernadette's in Dyker Heights, had the opportunity to meet Pope Francis as he arrived in New York, she said, "I came here because I wanted to meet the pope, because I believe in a miracle," CBS New York reported.
Julia said meeting the holy father was "the most precious moment of my life."
"The most precious moment of my life."
Precious, indeed. According to CBS, five days after Julia received a blessing from Pope Francis doctors seem to be closer to a firm diagnosis.
"The miracle has begun. Yesterday, I went to the doctor and for the first time they saw Lyme disease activity in my blood and that just shows a miracle can happen if you believe, just like I did. If you believe and pray everything can happen," she told CBS last week.
Julia's symptoms suggested Lyme disease, but there were no signs of the disease in her blood tests prior to meeting Francis.
During the audience at JFK Airport, Julia's mom had called out to the pope to come over to the family. When he turned she knew something special was happening, the station reported.
"He looked me right in the eyes; I kissed his hand and thanked him, and I walked away [saying] 'she's gonna be okay'," Josephine Bruzzese said.
Julia says she wants to get back to playing softball and soccer, singing in the choir and being an altar server.
"It's unfortunate that this has happened. This experience has made me wiser, made me look at life in a different perspective. Life is precious," she said.