Boy with fatal disease becomes 'permanent' member of Boston College football team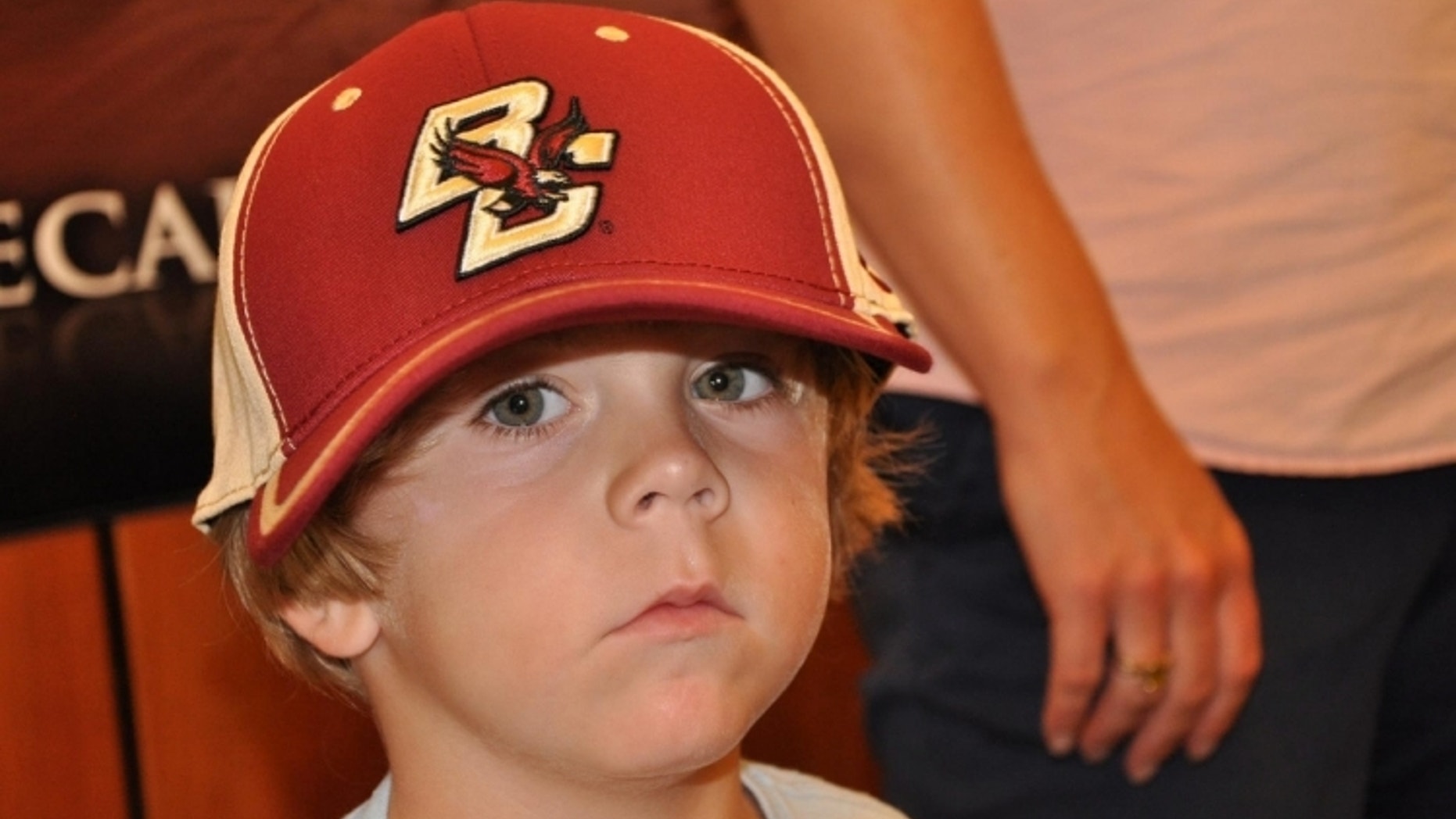 To the giants who play each weekend for one of America's big-time college football teams, little JB Harvey is THE big man on campus.
JB, a 5-year-old from Massachusetts, is one of the newest members of the Boston College football team. A month ago, assistant coach Mike Sirvano introduced him to the rest of the Division 1 team as an honorary and permanent team member, the Boston College Chronicle reported.
JB suffers from Duchenne muscular dystrophy (DMD), a fatal form of the disease.  Because of his condition, he is unable to play most sports – including football, his favorite.
"It may seem insignificant to some, but that fact that JB could not participate in sports was heartbreaking for me," his mother Beth, a former Division I lacrosse player at Holy Cross, told the Boston College Chronicle. "Sports played a huge role in my life, and I thought JB would never feel part of a team, and would not learn the life lessons that only team sports can provide."
The Harveys, who started the foundation "JB's Keys to DMD," joined with Boston College and Team Impact to fulfill JB's dreams of participating in sports.  Team Impact is a non-profit organization that works to match children with life-threatening illnesses to local college teams.
"When I first met JB he was so adorable, " Maura Mahoney, director of case management and communication at Team Impact, told FoxNews.com. "He is the cutest little five year old – he was in awe of these giant guys. You could see it in his face how excited he was."
Mahoney said a large group of students on the team has really bonded with JB, and they all hang out on a regular basis. The students even through little JB a birthday party, she added.
As an honorary member of the team, JB is invited on the field during BC games and in the locker room, where he has his own locker with a nameplate and gear inside.  He also communicates with some of his coaches and teammates via text messages and Facebook.
The day before the BC Eagles were set to play Maine on September 8, JB even participated in walkthroughs, stretching and interacting with the other players. Head coach Frank Spaziani thanked him personally for coming, according to the Boston College Chronicle.
"It's really just been amazing how welcomed we have felt from day one," Beth Harvey told the Boston College Chronicle. "BC is a big Division I program and the fact that they have taken the time to let us in has been great."