Boy with autism fights to keep service ducks after town orders family to get rid of them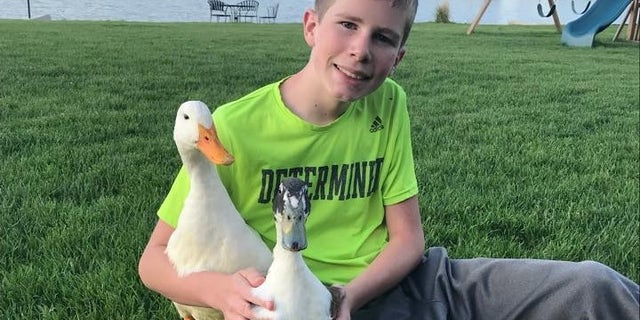 A 12-year-old boy with autism is at risk of losing his two service ducks after officials in his Michigan town allegedly received complaints about the animals from neighbors.
Dylan Dyke, of Georgetown Township, keeps his two ducks, named Nibbles and Bill, in a pen behind the family's home, WOODTV.com reported.
"These ducks are his everything," Jen Dyke, the boy's mother, told the news outlet. "They're his whole life."
But neighbors, reportedly including a member of the homeowners' association board, are allegedly upset over the smells, sights and sounds of the ducks and complained to town officials, who have since ordered the Dykes to get rid of the ducks, citing an ordinance that prohibits residents from having farm animals on their property.
MOM DONATES SON'S ORGANS AFTER TODDLER TWINS DROWNED IN SITTER'S POOL
"The ducks are free to roam around when their autistic child is present, but often stray from the property and defecate on others (sic) lawns, beaches and patios," one alleged complaint said, according to 24 Hour News 8.
Another neighbor allegedly complained about the impact the animals may have on property values.
The family is preparing to go to court over the town's order if the zoning appeals board does not rule in their favor at an Aug. 22 meeting. They've also taken to Facebook to rally supporters on the "Dylan's Duck Adventures" page, where they've posted several articles about the issue. The Dykes have received support from their son's psychologist, who said removing the ducks could cause "significant emotional distress" for Dylan.
"They provide the opportunity to calm down," Dr. Eric Dykstra told WOODTV.com. "They provide the opportunity for him to practice emotional regulation. For Dylan these ducks are extremely helpful."
Autism spectrum disorder (ASD) refers to a range of developmental conditions that may impact social skills, communication and behavioral challenges. According to the Centers for Disease Control and Prevention (CDC), about 1 in 59 children in the U.S. is afflicted with ASD. While there is no cure for ASD, early intervention can help improve a child's development.
TEEN INFECTED WITH HOOKWORMS COULD 'FEEL THE WORMS MOVING IN HIS BODY,' MOM SAYS
A statement from the Cory Estates Association said the board is aware of the situation.
"While weighing the interests of all neighbors in our neighborhood, we have attempted to facilitate a manageable resolution, and remain committed to an outcome that balances clear and stable expectations for all neighbors, the consideration of specific family requests, the mitigation of negative impacts on others, and a predictable path for any similar future requests," the homeowners' association said, in part.
On the family's GoFundMe page, they argue that the ducks are protected as Emotional Support Animals and that their son is protected under disability laws.
"We live here. We want to get along with everybody as much as we can, but at the same time we need to advocate for our special needs son," Mark Dyke, the boy's father, told WOODTV.com.