9-year-old Ohio boy dies during football practice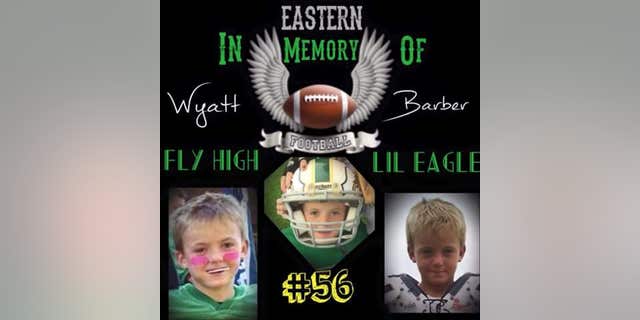 A 9-year-old Ohio boy died during football practice Monday after he was found unconscious by coaches. The Meigs County Sheriff's Office is investigating the death, The Columbus Dispatch reported.
Wyatt Barber was practicing with the Big Bend Youth Football League when he was found unresponsive by a coach after the team took a break from running sprints. Authorities were called and coaches performed CPR on the third grader until medics arrived. He died later that night.
Sheriff Keith Wood told PEOPLE that the players had been playing in scrimmage run-throughs during the "light" practice and weren't making contact.
PEOPLE reported that police were not aware of any health conditions or problems that Barber might have had. The exact cause of death is still being determined.
A GoFundMe page has been set up for the boy's family and has raised over $6,000 of its $15,000 goal.
"The staff, students, and community of Eastern Local would like to express our sincere condolences to the family during this very unfortunate time," Scot Gheen, Eastern Local School District Superintendent, said.
Grief counseling is being offered by the district for the boy's classmates.
According to Gheen, the football league is not affiliated with the school district.
The boy's death is the latest in a string of football-related fatalities, including Evan Murray, a New Jersey high school quarterback who died in October after suffering an injury during a game.