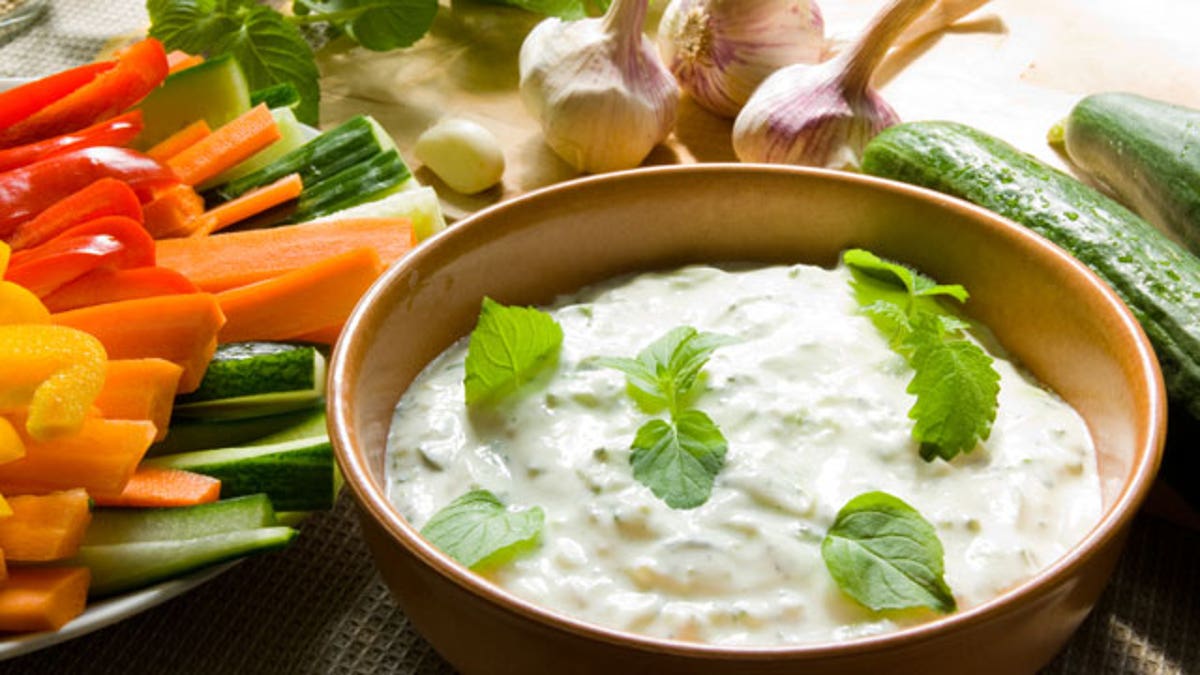 Don't swear off dips just because you are watching your weight. Try these tasty dips with some fresh fruit slices or chopped veggies:
Greek Yogurt Dips
French onion dip is notoriously high in calories because most recipes call for full-fat sour cream. Nix that ingredient and instead use low-fat plain Greek yogurt, which has about half the calories and fat, and three time the protein as sour cream. The same holds for veggie dip - just flavor it with a packet of vegetable soup mix. Check out two my favorite dip recipes – delicious anytime.
Skinny Spinach Parmesan Dip
You can trim half the calories from traditional fat-laden spinach & artichoke dip by using light cream cheese instead of the usual sour cream and mayo. It's still plenty rich and for extra flavor add garlic and Parmesan cheese.
Baba Ganoush
Everyone loves hummus, but have you tried other Mediterranean dips like Baba Ganoush? Its main ingredient is eggplant, which is full of flavor and it's a great source of vitamin B, vitamin E, fiber, and the anti-aging antioxidant Nansunin. Hummus is a waist-friendly healthy dip too, but baba ganoush is even more so with about 72 calories less per cup.
Lemon Pepper Cottage Cheese Dip
To make this delicious, healthy dip combine 1/2 cup of low-fat cottage cheese with 1/4 tsp of lemon pepper seasoning and toss in some minced carrots or peppers for color, crunch and a boost of filling fiber. Not only is cottage cheese a great source of calcium, phosphorus, vitamin B12, and protein, a recent study from the Harvard School of Public Health found that cottage cheese may help reduce breast cancer risk in premenopausal women.
Pumpkin Dip
Take advantage of nutritious seasonal vegetables like pumpkin. One serving of pumpkin provides a daily value of 197 percent of vitamin A - a powerful disease-fighting antioxidant that may improve vision and protect against lung cancer. Enjoy this savory dip with some toasted whole wheat pita chips sprinkled with cinnamon or for even more fiber go with black bean chips.
For delicious high fiber meal plans, recipes and tips on healthy eating, drinking and losing weight, check out my latest book, The Miracle Carb Diet: Make Calories and Fat Disappear – with Fiber!
Tanya Zuckerbrot MS, RD, is a registered dietitian in New York City and the author of two bestselling diet books: The Miracle Carb Diet: Make Calories and Fat Disappear – with fiber and The F-Factor Diet. Follow Tanya on Facebook, Twitter and LinkedIn, and subscribe to her free weekly weight loss newsletter.