5 delicious ways to enjoy beets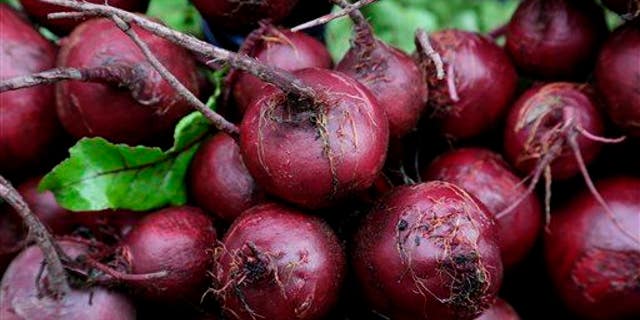 NEWYou can now listen to Fox News articles!
Beetroot, simply known as the beet, has been gaining popularity as a superfood. Beet juice consumption is associated with a decrease in blood pressure, which can be an effective way to treat cardiovascular conditions. Beets are also one of the few vegetables that contain a group of pigments known as betalains, which display potent antioxidant and anti-inflammatory activity.
A study published in the journal Medicine and Science in Sports and Exercise shows improved performance in a 16.1-km time trial. Along with its high fiber content (each cup of beets contains 4g of fiber), beets also help to prevent constipation and promote healthy bowel movements. But the outer appearance of beets doesn't do its nutritional wonders justice. Most people don't know how to approach this rough-looking root vegetable. To help you, here are the five different ways you can beat up the BEETS in your kitchen!
Raw for shaved beet salad
Slicing the beets very thinly leaves them crisp without being too hard to chew. All you need is a vegetable peeler to shave the slices of beets to your desired thickness! Even though beets and goat cheese is always a winning combination, here we recommend using dollops of nonfat Greek yogurt for the same creaminess without the added fat! Topped with drizzles of balsamic vinegar and pinches of fresh herbs, raw beets can make a refreshing and fiber-filled salad with zero cooking!
Roast for roasted beets
Roasting beets is one of the best ways to get those who are not into beets, into beets. The roasting process helps to concentrate the sweetness, and the caramelization of beets' natural sugar helps to add a wonderful complexity of flavors. One tasty trick is to make sure the beets are wrapped in foil while roasting so that they don't dry out. Simply roast beets in a 400-degree oven for about 1 hour 15 minutes, peel and season them with balsamic vinegar and some orange zest to taste.
Spiralize for beet noodles
Noodles without noodles? Yes, you read it right. Spiralized veggie noodles are a big hit in the market now and it's never too late for you to hop on the bandwagon! It is definitely worth investing in a spiralizer that can help you churn out Beet Noodles in seconds! These Beet Noodles are beautiful and guess what? They are packed with fiber and are very low in calories. The added fiber will help you feel fuller for longer. One cup of beet noodles contains less than 60 calories, compared to one cup of pasta, which usually contains more than 240 calories! Simply roast the Beet Noodles in a 425-degree oven for 8 - 10 minutes and toss them in any dressings of your choice. Try them with pesto for the burst of flavors that will leave you craving more.
Puree for beet hummus
If there's one thing that can BEAT the traditional hummus, it's the BEET hummus. Yes, it is time for us to take hummus beyond chickpeas, with this low calories alternative, beets. One cup of beets contains only 59 calories, compared to one cup of chickpeas which is 729 calories! Purée roasted beets, tahini sesame paste, garlic and lemon juice until smooth, and season to taste. This creamy deep-ruby hummus makes a pretty topping for cucumber rounds, celery stalks or high fiber crackers. What's best? Grab a spoon and just dig in!
Blend for Beet Juice
Let's take the hype for beet juice on athletes' performance aside - beet juice itself is actually delicious and rich in fiber. One cup of beet juice contains about 5g of fiber and half the amount of sugar as compared to one cup of fresh orange juice, which also contains only 1g of fiber! Flavor wise, beets pair well with almost any fruit or vegetable and add a vibrant color to juice drinks. The classic recipe is ABC juice, consisting of Apples, Beets and Carrots blended together. Or if you're more adventurous, try the Beet Zinger juice, consisting of Apple, Beets and Ginger for the spicy pang! Remember, do not separate the fiber from your juice as you would not want to miss out on the healthy benefits of fiber, which include keeping you satiated for longer.