Virginia officials renaming Jefferson Davis Highway, asking internet for ideas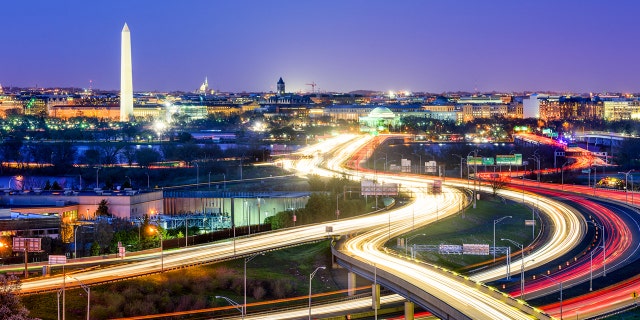 NEWYou can now listen to Fox News articles!
Following the protests on Aug. 12 in Charlottesville, Va., the Alexandria City Council's decision to rename Jefferson Davis Memorial Highway has become more urgent.
City officials have recently set up an online brainstorming survey soliciting suggestions for alternate names. And whether or not you're a resident of the Old Dominion state, feedback is welcome.
'PIZZA FATALITIES' REPORTED AFTER DIGIORNO, TOMBSTONE TRUCK CRASHES ON ARKANSAS HIGHWAY
A critical route for the Washington, D.C. area, the heavily traveled Jefferson Davis Highway leads to Ronald Reagan Washington National Airport, Arlington National Cemetery and the Pentagon. The renaming process was originally initiated in September 2016, when city council voted unanimously to begin the process of renaming the stretch of U.S. Route 1 that currently honors the first and only president of the Confederacy, who served from 1861 to 1865.
The survey opened on August 10 and is taking suggestions until September 15, explained Craig T. Fifer, Director of Communications and Public Information for Alexandria. Further, the advisory group will hold an open forum on September 25, and make its final recommendation for the road's new name on October 5.
SIX FLAGS OVER TEXAS REMOVES CONFEDERATE FLAG, REVERSING EARLIER DECISION
According to the Department of Transportation's Federal Highway Administration, in 1913, the roadway was officially dubbed the Jefferson Davis Memorial Highway through sponsorship of the United Daughters of the Confederacy, in response to the publicly funded Lincoln Highway.
FOLLOW US ON FACEBOOK FOR MORE FOX LIFESTYLE NEWS
In the wake of the chaos in Charlottesville over the removal of a statue of Confederate Gen. Robert E. Lee, government officials are moving forward with utmost caution. Like the swift eradication of Confederate statues in Atlanta, Baltimore, and Durham, N.C., to campaigns to rename streets like "General Lee Avenue" and "Stonewall Jackson Drive" at the Army National Guard base in Brooklyn, N.Y., Alexandria prepares to set precedent as it renames the road.