'Monster' catfish reeled in by California fisherman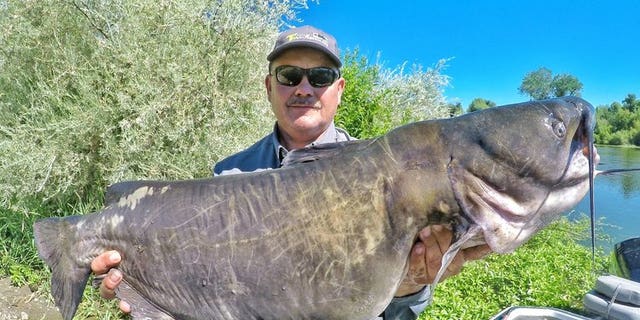 A California fisherman snagged a much bigger catch than he expected when he reeled in a possibly record-breaking catfish Saturday morning.
Sean Moffett was fishing in Clear Lake when he felt a tug on his fishing rod and thought it was a large bass, KTVU reported. As Moffett wrestled for nearly 10 minutes to reel in his catch, he realized it was a catfish -- a massive one.
"I had to use a rope to drag the fish behind the boat because it was a monster size and I didn't want to kill it" Moffett said.
The fish was about 35 inches long from nose to tail and weighed nearly 30 pounds.
MINNESOTA KAYAKERS CAPTURE GIANT MUSKIE CHOMPING ON PIKE FISH IN VIRAL VIDEO
Moffett took measurements of the catfish hoping it would break the current International Game Fish Association all-tackle world record, which is 31 inches long (80 centimeters) , according to KTVU. His "monster" catfish measured almost 33 inches (83 centimeters) from the nose to the short end of the tail. However, Moffett would need to meet all the association's rules and qualifications to claim the title.
The fisherman told The Reporter the fish ended up dying by the time they released it back to the lake.
"We got it back in the water, but I think the old girl had too much for the day and she did not survive it," Moffett said. "At that point, there were a bunch of fisherman that admired the fish and I handed it off to one of them."
Click here for more from KTVU.