Danny Trejo expands growing food empire with Los Angeles donut and coffee shop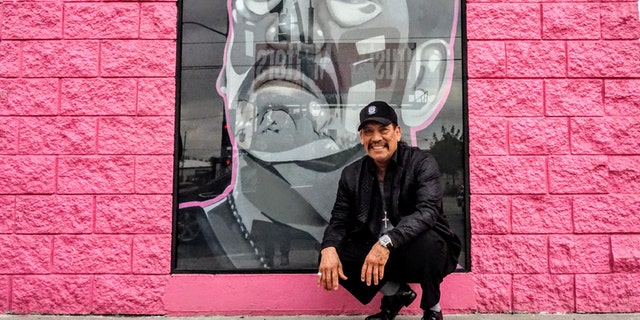 With over 70 movie roles to his name, actor Danny Trejo can also add taco and donut shop entrepreneur to his credits.
It began in Los Angeles with the opening of Trejo's Tacos in March 2016, then expanded to a mobile operation-- Trejo's Truck-- and Trejo's Cantina. Now, the Pacoima, Calif. native's latest endeavor, Trejo's Coffee & Donuts, which opened May 17, showcases a sweeter side of traditional Mexican flavors.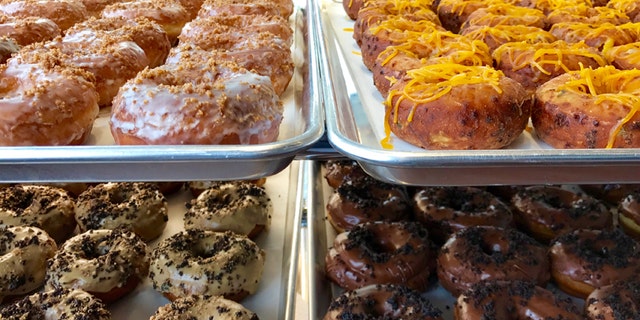 Trejo told Fox News he feels blessed every day to be able to do what he loves as an actor and also to open and operate restaurants – something he and his late mother had always wanted to do.
With clever donut names like "Gringo," "Abuelita," "O.G.," "Lowrider," and of course the "Machete," Trejo's Coffee features more sophiscated pastry flavors than your average Krispy Kreme. If it takes off, the "From Dusk Till Dawn" star's food company could make Trejo's brand worth $100 million, according to Eater. A spokesperson for Trejo's food company says they now employ over 100 people.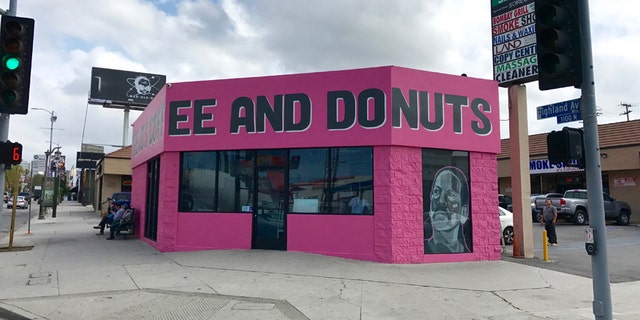 BEHOLD THE WILDLY COLORFUL SUSHI DONUT
The actor is set to open two more Trejo's Taco locations this year and maintain his presence at every Rams home game (he's an avid fan) with Trejo's Taco truck.
Trejo has been playing some rough characters on-screen for over 30 years, but in real life, he was a pretty serious bad guy. He started doing drugs at 8-years-old, heroin by 12, went from juvenile hall and for 11 years, he was in and out of jail -- then finally a stint at San Quentin prison. He was released in 1969 at 25-years-old.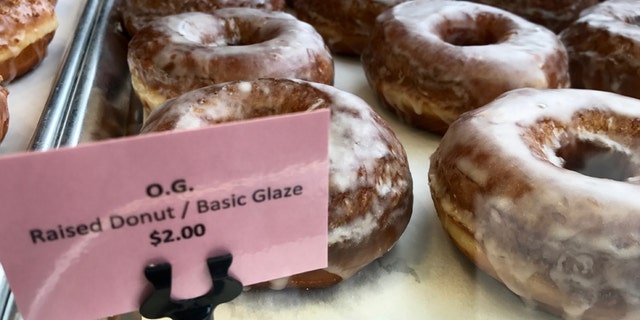 Fox News spoke with the 73-year-old Trejo about his recently opened shop in the West Hollywood neighborhood of Los Angeles, his commitment to hiring at-risk youth and why he chose to fearlessly throw himself into the city's increasingly crowded donut scene.
Fox News : You're a successful actor, arguably one of Hollywood's most prolific, so why go into the food industry?
Danny Trejo: My mom was a great cook. When my family was absolutely dead broke she could go the cupboard and whip up some meal with two boxes of stuff. We always joked about starting a restaurant, but my dad, he was like the Mexican Archie Bunker [a fictional character from the 1970s American television sitcom "All in the Family"]. Every time we talked about a restaurant, he would say,"Hey, we got a kitchen right there. Why don't you whip us up a blue plate special?" This was the 50s and women didn't work. So, we would always joke and talk about a Trejo's tacos, but that was it.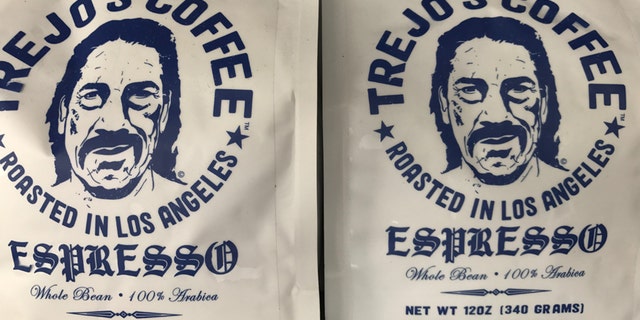 Then I was doing a film called "Bad Ass" and the producer was a guy named Ash [Ash R. Shah]. He saw that I was a foodie, so, he said "Why don't you start a restaurant?" I said, "Yeah, Trejo's Tacos." But then he came to me with a business plan. I have two women I work with, because behind every good man, there better be a great woman. I showed the plan to my agent and secretary, and they looked over it. They said this was the first business plan that someone brought to me that I didn't have to put up $500,000 for.
We started it with Trejo's Tacos and it soared. Then Trejo's Truck, then Trejo's Cantina, and now Trejo's Coffee & Donuts, and we've sold out of the donuts every day since we've opened.
Fox News: Why the donuts and coffee?
Danny Trejo: California is a donut spot and I love the police. They're the first ones in in the morning. The LAPD pick up a dozen and take them back to the station. They're so cool. They don't accept anything for free.
SURPRISING FACTS ABOUT KRISPY KREME DOUGHNUTS
Fox News: Why do you think your food businesses have been so successful?
Trejo: People ask me if it's because I'm a celebrity that my places are popular. I say, "Well, they may come in because of that, but the food better be good if you want them to come back." I've known celebrities who've started restaurants, but then they fold because people think they can just live on the celebrity name, and you can't. It's got to be good food.
Our concept was that maybe there's seven or eight people all heading out for a meal, but inevitably someone is a vegan, or can't eat gluten, so you have a hard time finding a restaurant. We've got gluten-free, we've got vegetarian, we've got vegan, and then we have our regular carne asada, carnitas and pulled-pork tacos. We've got three menus.
I started with gluten-free because I've got two step-kids who're autistic. And I started working with them and a doctor told me that gluten isn't good for autistic kids. So, we have a gluten-free menu. Parents bring their kids in so they can all eat dinner together. We've also got gluten-free donuts available as well.
Fox News: Any cool projects coming up?
Danny Trejo: Next month, we're opening a Trejo's Cantina next to the Pasadena Playhouse. In August we're opening in the University Southern California (USC) Village, and I want to open one in the new Rams stadium in Inglewood.
Right now I'm doing a film called "Social Security." It's like a "Die Hard" in a senior citizen home. We want to get a lot of actors who haven't worked for a while because of their age. You know in Hollywood, once you hit 40, if you haven't already got a name, you're not working -- and it's worse if you're a woman. I'd love to get Betty White to hit someone in the head with a bed pan. I just finished a movie called "Margarita Man."
Fox News: You stay in good shape. How do you work off the donuts?
Danny Trejo: I walk. I lift a lot of weights. I've got to stay at 180 pounds.
FOLLOW US ON FACEBOOK FOR MORE FOX LIFESTYLE NEWS
Fox News: Are you still working with Los Angeles communities facing drug addiction problems?
Trejo: I still work for Western Pacific Med Corp. [a narcotic treatment center] that detoxes heroin patients. We go to schools and talk to young people. The reality is that the good Lord put me in this position to be a spokesman. When you work with young people, first you have to get their attention. That's impossible because they have none. Then you have to keep their attention. And that's impossible because they have none. You have to show them that you're cool, but if you're ten years older than them, you automatically lose your cool.
My message is that alcohol and drugs will ruin your life and education is the key to anything you want to do.
The gift the good Lord has given me is that when I walk onto a campus, I have everybody's attention. Not Danny Trejo, but the guy from "Heat," "Desperado," if you're Mexican, the guy from "Blood In, Blood Out," or "Spy Kids," that guy has their attention. They want to hear what I have to say.
Fox News: Do you employ some of the recovering addicts in your restaurants?
Trejo: Our restaurants are full of what we call "second chancers." They're all people who've been in some kind of trouble, but now they're great. They go through our training. I tell them it's your job to keep them [customers] coming back.