Christmas in space: Irradiated turkey and 'Star Wars' screeners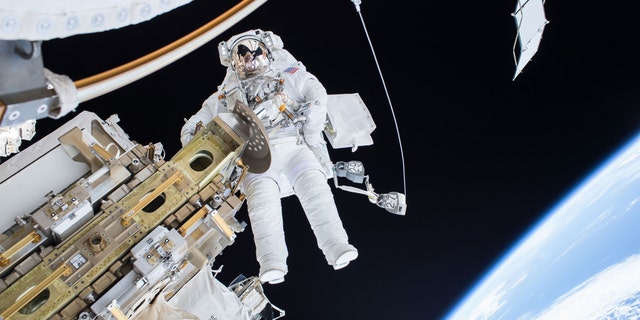 While many of us will be sitting down to turkey roasts and honey glazed ham with our families on Christmas night, the astronauts aboard the International Space Station will be having their own special Christmas meals — and perhaps watching a screener copy of Star Wars: The Force Awakens, which was sent up to them along with a projection screen.
American astronaut Timothy Kopra, British astronaut Tim Peake and Russian cosmonaut Yuri Malenchenko traveled to the ISS aboard Soyuz 2 last week for a six-month mission known as Expedition 46. They joined American Commander Scott Kelly and Russian flight engineers Mikhail Kornienko and Sergey Volkov, who were already on board. (You can look up and see the ISS for yourself. Check the tracker on the NASA website for the best times and places.)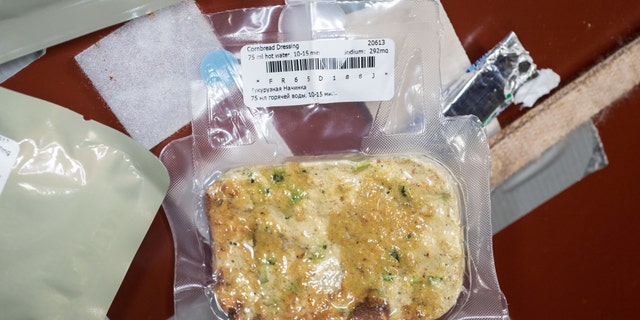 Vickie Kloeris, NASA's space food systems laboratory manager, said Kopra's Christmas dinner will include many of the same items his fellow Americans enjoy on Earth: turkey, cornbread dressing, candied yams, green beans with mushrooms, cherry blueberry cobbler and spiced apples.
But Kopra's meal will be prepared a bit differently, because the ISS is no place for floating crumbs and gravy, and food must last for months without refrigeration. That means even innocuous items like salt and pepper are available only in liquid form, and everything must be non-perishable — irradiated, thermostabilized or freeze-dried.
As for fancy, Christmas-y dinner plates … Those are for the earthbound. They need gravity to stay on the table.
Dinner in space comes in tins or pouches only: The irradiated turkey comes in a sealed foil pouch; The mashed potatoes, cornbread stuffing and green beans are freeze-dried; the candied yams and cobbler are thermostabilized.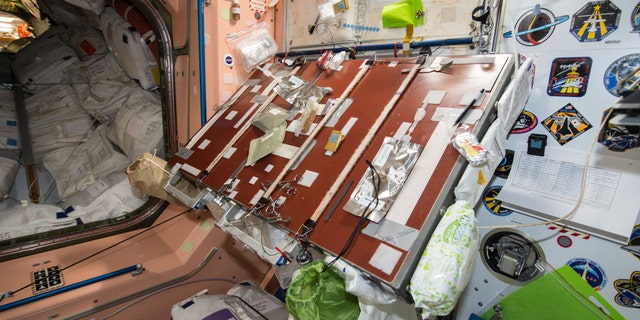 Astronauts place the irradiated and freeze-dried pouches into a station where they're filled with hot water and rehydrated — a process that takes seconds. Thermostabilized food is prepared even faster: Just cut open a pouch of yams. Tether the works to the dinner table with bungee cords, and dig in.
Should the outer-world travelers feel like a last-minute change of menu, choices include shrimp cocktail, mac & cheese and beef tips with mushrooms. Contrary to popular belief, fresh fruit and vegetables are allowed on board and are frequently brought up by new crewmembers — but they must be eaten in the first few days, before they rot.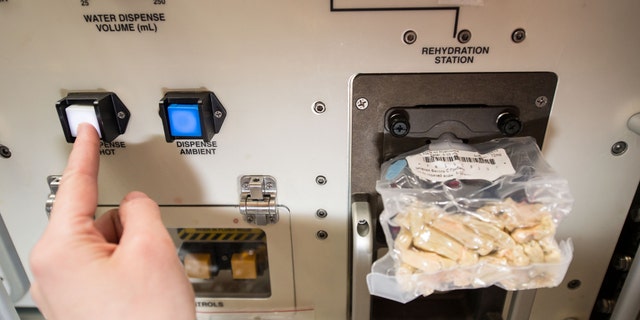 It takes a lot of planning to tether food to an astronaut's table, because it's a very long trip to the nearest grocery store.
Well in advance of a mission, NASA Food Lab at Johnson Space Center in Houston begins collaborating with the astronauts on their menus. "We begin working approximately one year in advance of the launch of the crewmember," Kloeris said.
Astronauts can choose from over 200 items and get to taste-test their food in the lab. They're allowed to make nine containers-worth of special requests, which are tested and approved by NASA before being sent up in a supply mission. On Expedition 46, special requests included That's It fruit bars, which have an 18-month shelf life and are temperature resistant, even though they're pure fruit.
Food in space doesn't taste as good as it does on earth — cabin pressurization dulls taste buds and mimics a head cold, just as in an airplane — but that just might improve the taste of fruitcake.
A particular treat awaits Peake when he sits down with his crewmates for dinner. His Christmas meal was prepared by the celebrated Michelin-starred British chef Heston Blumenthal, in conjunction with British schoolchildren following a national contest known as The Great British Space Dinner. Peake's Christmas meal will include a Sunday roast in the shape of a helmet and a Christmas pudding.
In a holiday video recorded on board the ISS this week with Kopra and Kelly, Peake said, "Christmas is traditionally a time for friends and families to get together. And although we can't be with our friends and families this year, we'll be orbiting the earth 16 times on Christmas Day and sending all our good wishes to everybody back down on beautiful planet Earth."