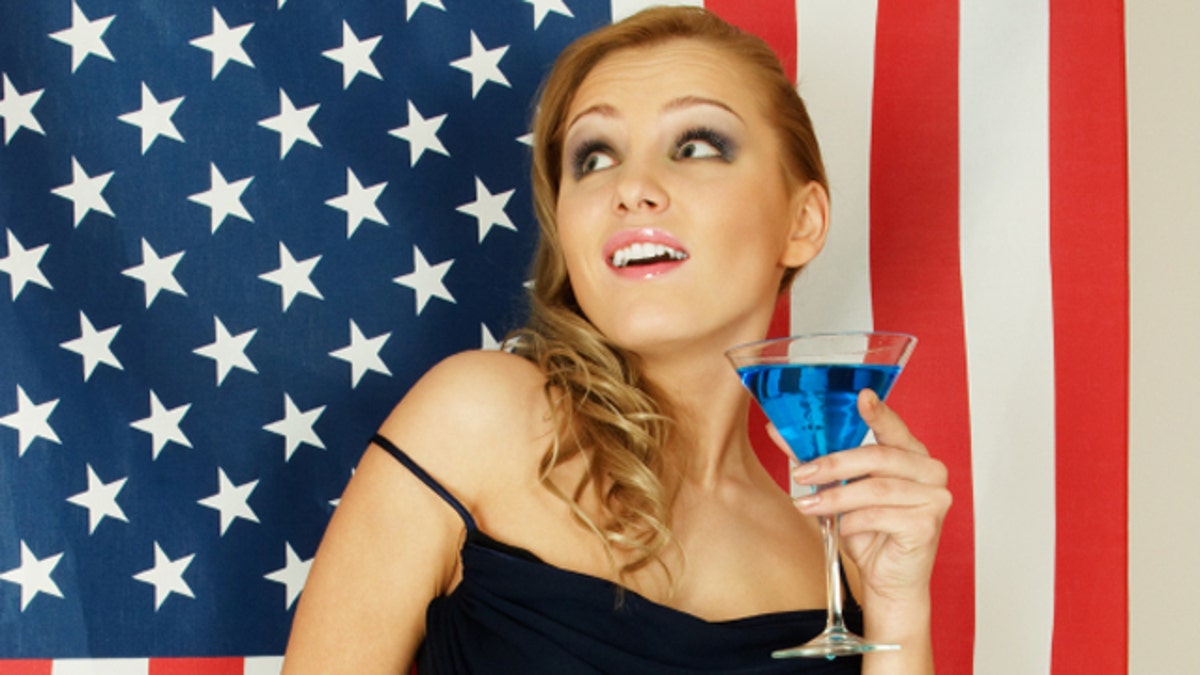 If any day calls for glasses raised in a toast to the United States, it's July 4th. This year marks the 234th since declaring independence from England, and a glass of bourbon or a can of Bud is certainly the most traditionally American way to toast the birth of our country. But in addition to being the birthplace of modern democracy, America is also the cradle of cocktail civilization, making a more complex drink a perfect choice to celebrate the creation of the nation.
The exact date is constantly debated, but in the early 1800s the word "cocktail" was first used in New York as a way to describe a combination of spirits, sugar, water and bitters. It's likely that it referred to a specific drink that threw a variety of spirits in the mix, depending on what was available, but over the years this definition expanded to encompass any combination of spirits and other ingredients. Most alcohol historians even agree that the first cocktail party occurred in Missouri, and cocktail culture is alive and well and bigger than ever in this country, today. So drinking a cocktail on the 4th is really just connecting with your American heritage, especially when it's one of these.
The Sazerac – One of the first cocktails on record, the Sazerac was born in New Orleans during the 1830s and packs a heavy punch. Traditionally, the recipe uses rye and cognac, but a modern version combines absinthe, rye, Peychaud's bitters, simple syrup or sugar. Either way, the drink is one of the all-time greats but can be fairly polarizing – just like politics in the U.S. It's complex, aromatic, and spicy with a tinge of sweetness that brings out the warmth and richness of the rye. A few of these would also make any fireworks display that much more awesome.
1/2 teaspoon absinthe
1 teaspoon of simple syrup (equal parts sugar and water heated just enough to combine and cooled)
4 dashes Peychaud's bitters
2 oz rye whiskey (or 1 ounce rye and 1 ounce cognac)
Add the absinthe to a lowball glass and roll it around so the liquor coats the interior. Toss out the excess and add the other ingredients to a cocktail shaker loaded with ice. Stir until chilled and strain into the glass. Garnish with a lemon twist if you're so inclined. This is America, after all – we're free to determine whether our paths to satisfaction should include citrus or not.
Artillery Punch – Sized for a crowd, Artillery Punch has a rich history. The punch originated in Savannah, GA with the Chatham Artillery, and was served to Admiral Winfield Scott Schley during his visit to the city after the Spanish-American War. By all reports, the punch had a much more dramatic effect on him than the Spanish guns. It's no surprise, Artillery Punch is a sweet summery drink with a sweet tea base and a strong citrus overtone that covers up the fact that there's a massive dose of liquor hidden within. And what could be more American than a huge drink based native Catawba wine.
1 ½ gallons Catawba wine
1 ½ quarts rye
½ gallon rum (Pyrat lends an excellent caramel sweetness to the mix)
½ pint Benedictine
1 quart Gin
1 quart Brandy
1 ½ gallons strong tea
2 ½ pounds brown sugar
Juice of 1 ½ dozen oranges
Juice 1 ½ dozen lemons
The recipe serves 100 of your closest friends, but if you maintain the ratios you can scale it down for smaller get-togethers. Simply add all the ingredients to a vessel large enough to hold all of it, stir, add to tall glasses of ice when ready to serve. Keep a close eye on your guests though – if this stuff can drop an admiral, just think of what it could do to your coworkers.
The Tom Collins – Although the British have tried to take credit for it, the recipe for the Tom Collins first appeared in the 1876 printing of "The Bartender's Guide" – fitting that the first centennial of America would coincide with the codification of one of the country's most iconic summer drinks. Light and refreshing, with a satisfying sweet and sour tang and bracing herbal notes from the gin, it's the perfect companion for a sweltering night of barbecue and sparkly explosives.
1 ½ oz gin
1 oz lemon juice
½ oz simple syrup
Club soda
Add all ingredients except the soda to a tall glass full of ice and stir. Top off with the soda and give it another stir to combine. Then drop a maraschino cherry in and spend the next hour reflecting on how anyone could possibly have thought something so perfect could have been conceived by a country that eats baked beans for breakfast.
The Americano – American culture is a powerful thing. So powerful, in fact, that a once Italian cocktail was renamed for the American tourists who constantly ordered it while abroad in Europe. First created in 1860s Italy with Campari, sweet vermouth and club soda, it was known as the Milano-Torino. But an upsurge in tourism in the early part of the 20th century brought in a huge wave of Americans who would order the drink – causing the Italians to dub it the Americano. Herbal, almost medicinal notes combined with the sweetness of the vermouth make this a somewhat acquired taste, but like American culture, just try to fight it. Light, refreshing and evocative of the melting pot America has always been, it's the perfect drink to sip on the patio with friends celebrating another year in the bag for the U.S.A.
1 oz Campari
1 oz sweet vermouth
club soda
Build the drink over ice in a lowball glass and top off with club soda and an orange slice. You can also build the drink in a taller glass if looking for something even lighter. Just add more club soda.