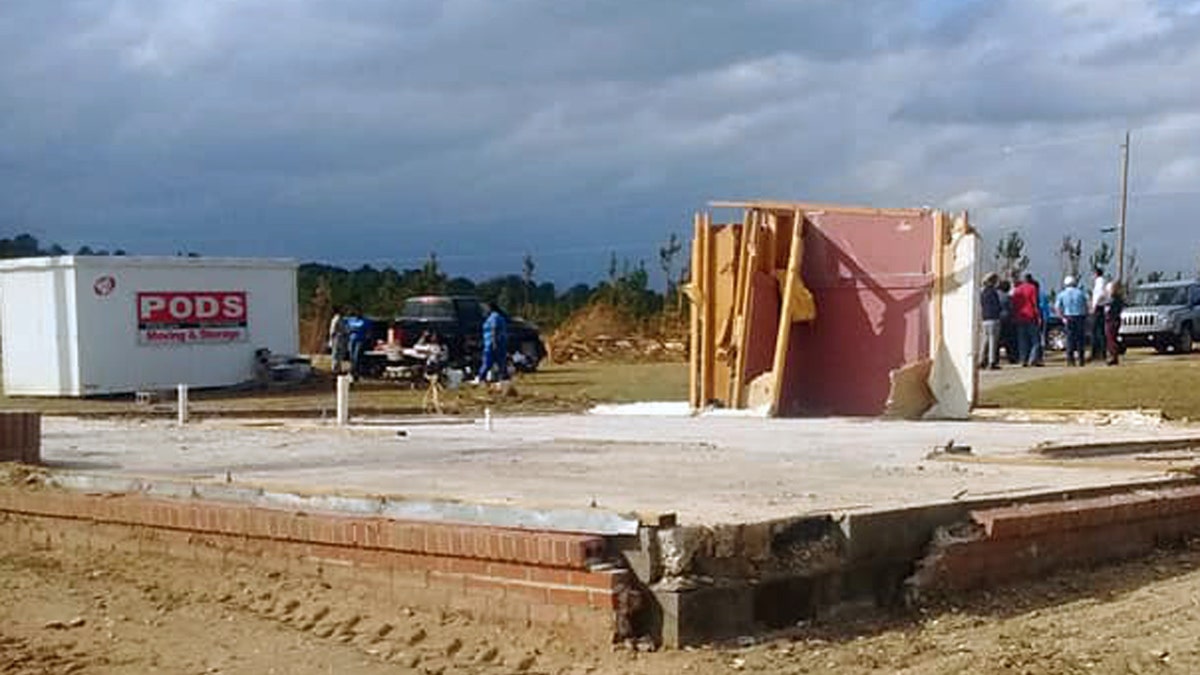 A deadly F4 tornado ravaged parts of southeast Alabama earlier this month, but Beauregard, the community hit hardest by the storm, has a miraculous survival story that went viral.
Jason Smith was in Lee County as one of 22 chaplains deployed as part of a Billy Graham Rapid Response Team. He had the chance to pray with sisters Evony LaShawn Wilson and Renee Frazier and their loved ones at their mother's home, where just a portion of a wall and a small space remained, but was of significant importance to the matriarch.
WEST VIRGINIA FIREFIGHTERS FIND UNTOUCHED BIBLES IN CHURCH FIRE: 'THOUGH ODDS WERE AGAINST US, GOD WAS NOT'
"Listening to the family tell their story was gripping and when they shared their mother/grandmother used that closet as her prayer closet I was moved and had to get a photo of it to share of God's faithfulness," Smith told Fox News.
Wilson's mother, affectionately known as "momma" or "Ms. Reese" to so many in the community, sang and praised her way through the storm.
"We just prayed together and held each other," Wilson told the Billy Graham Evangelistic Association, as the two twisters passed through their area.
One of the first responders, Kerry Pickard, shared on Facebook about how that "angel" helped him.
"We saw many things. Many things we wish we could unsee. Some things I didn't see though were race, a social economic class, or age. All I saw was some of the most loving people who I have ever met," Pickard wrote. "People who let their light shine bright in the darkest of times."
President Trump and first lady Melania Trump visited a row of 23 crosses – representing each life taken by the tornado – and observed a moment of silence alongside survivors and first responders.
Trump told reporters, "You saw things you wouldn't believe," something Smith agreed with, sharing two photos after seeing something he credits to the hand of God: "Are you kiddin me!!! My God is awesome!!! Shout somebody!"
"Listen to me please," Smith wrote. "I just left a family who survived the tornado in this house and the only left standing is this closet."
He continued: "It's the grandmother's prayer closet, and the whole family survived."
PULPIT LEFT STANDING AFTER STORM DEVASTATES RURAL GEORGIA TOWN
Chaplains were deployed as part of a team created by Franklin Graham and the Billy Graham Evangelistic Association specifically trained to deal with crisis situations. They partner with Graham's disaster relief organization, Samaritan's Purse, to address the physical, emotional, and spiritual needs of those who have been affected.
"Tornadoes are unique in that they will strike with very little notice, changing your whole world in a matter of minutes. The trauma being experienced throughout this area—especially with the families who lost loved ones—is intense and heartbreaking," Jack Munday, international director of the Billy Graham Rapid Response Team, said in a statement. "Our goal is to come alongside them, bringing the hope and comfort of Jesus."
CLICK HERE FOR THE FOX NEWS APP
He said Ms. Reese has showed the kind of love that can only come from above.
"Ms. Reese told me to let everyone know she is doing great," Pickard said. "As I went to leave, she grabbed my hand told me I was her son now. Thank you Ms. Reese for showing us what it means to love and praise through the storm."