Alabama tornado damage looks like 'someone took a giant knife and just scraped the ground,' sheriff says
Rescuers are scouring through what remains of destroyed homes as part of an intense ground search in southeast Alabama on Monday after a deadly tornado tore through the region, killing least 23 and leaving a number in the "double digits" of people who are missing.
Lee County Sheriff Jay Jones said at a morning news conference that most of the destruction was focused in an area along Alabama Highway 51 in Beauregard that is about a half-mile wide.
"It looks almost as like someone took a giant knife and just scraped the ground. There are slabs where homes formerly stood," he told reporters. "Whole forested areas, trees are just snapped and lying on the ground."
Jones said the death toll remained at 23 people as of 2 p.m. but may rise as the day goes on. Lee County Coroner Bill Harris said at an afternoon news conference that three children, ages 6, 9, and 10 were among the dead in Sunday's tornado.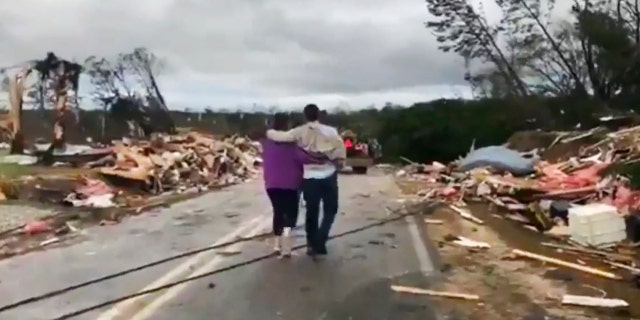 PULPIT LEFT STANDING AFTER STORM DEVASTATES RURAL GEORGIA TOWN
"I have not seen this level of destruction ever in my experience here in Lee County," the sheriff said. "We have not had anything of this nature before."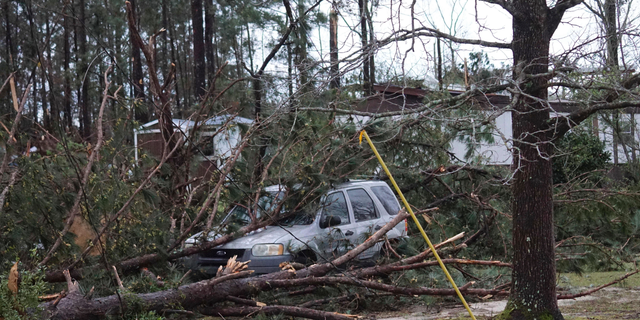 The tornado impacted what the sheriff described as a rural area that had a lot of mobile homes and manufactured-type housing. The twister created a debris field that spread over hundreds of yards, according to Jones, with some debris being thrown a half-mile away.
"In some locations, complete residences are gone," he said.
A group of "well over" 100 rescuers were out Monday morning searching through the storm's path, and Jones expected nearly 200 people will fully be involved as the day goes on. Also assisting are canine teams that are coming from all over Alabama.
"We're just going to focus with all our teams on the ground, specific assigned sectors that these teams are going to," Jones told "America's Newsroom." "A lot of volunteers have come forward. We have the assets in place. It's all about being able to cover the affected area."
An untold number of people were also transported to area hospitals with "very serious injuries," according to Jones, who did not have an exact number but told reporters they were being treated for a "range of injuries."
AT LEAST 23 DEAD, MANY INJURED, IN APPARENT LARGE TORNADO IN ALABAMA
The National Weather Service said that preliminary damage shows a tornado with at least an EF-4 rating caused the destruction in Alabama with winds estimated at 170 mph.
Chris Darden, meteorologist-in-charge at the NWS' Birmingham office said at a news conference it was the deadliest tornado in the United States since the twister that hit Moore, Oklahoma in 2013. The storm had a track of at least 24 miles.
Alabama Gov. Kay Ivey said the tornado ravaged a "tight-knit" community of people.
"We lost children, mothers, fathers, neighbors, and friends," she said.
Scott Fillmer told the Associated Press was at home in the rural community of Beauregard when the storm hit in Lee County.
"I looked out the window and it was nothing but black, but you could hear that freight train noise," Fillmer said.
SEE THE PHOTOS: TORNADOES, SEVERE WEATHER HIT DEEP SOUTH
Another woman told Fox News how she escaped injured.
"So I grabbed my dog and went and got in the closet and I'm sitting there holding the door just in case because it didn't close all the way. And a few minutes later, that's when I could hear all the wind and the house moving," she said.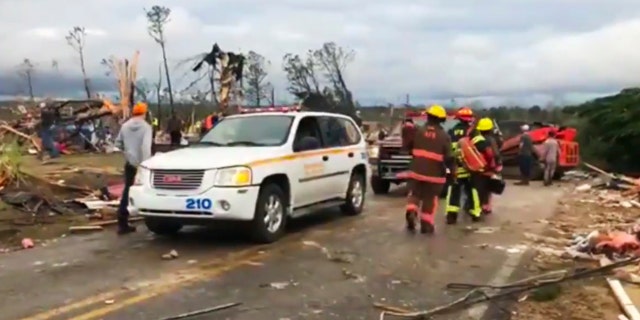 Describing rescue efforts Sunday night, a local mayor told Fox News: "We had to cut our way in with chainsaws and tractors to get to these people and make sure everyone was okay. We had some elderly people that were trapped in their houses.
"Words cannot describe it. Trailer homes turned upside down, the damage is unbelievable," he added.
In a tweet late Sunday, President Trump said: "To the great people of Alabama and surrounding areas: Please be careful and safe. Tornadoes and storms were truly violent and more could be coming. To the families and friends of the victims, and to the injured, God bless you all!"
The president said Monday that the Federal Emergency Management Agency has been told to give the "A Plus treatment to the Great State of Alabama" in the wake of the deadly storms.
CLICK HERE FOR THE FOX NEWS APP
No deaths had been reported Sunday evening from storm-damaged Alabama counties other than Lee County, said Gregory Robinson, spokesman for the Alabama Emergency Management Agency. But he said crews were still surveying damage in several counties in the southwestern part of the state.
Numerous tornado warnings were posted across parts of Alabama, Georgia, Florida and South Carolina on Sunday afternoon as the storm system raced across the region. Weather officials said they confirmed other tornadoes around the region by radar alone and would send teams out Monday to assess those and other storms.
Fox News' Frank Miles and The Associated Press contributed to this report.