Ohio town targeted by atheist group for opening meetings in Jesus' name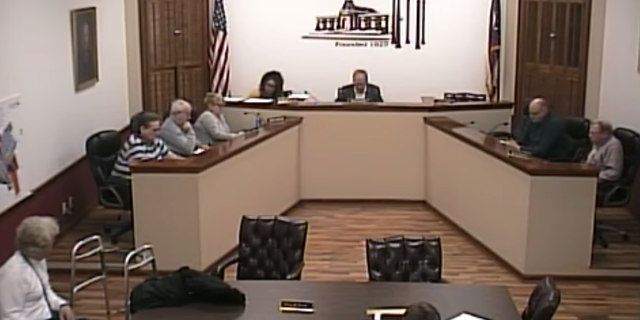 A small town outside of Columbus, Ohio has councilmembers under fire for opening its meetings with a Christian prayer that a separation of church and state group says is forcing religion on its citizens.
Mayor Billy Martin allows a clergy member or council member to give a prayer, and recently, Dortha Ross, associate pastor of Mount Sterling Church of the Nazarene, opened the meeting in prayer.
CHRISTIAN EX-USC PLAYER SAYS TEAMMATES RIPPED UP BIBLES HE GIFTED THEM
"We are thankful that, God, you are our creator, and that you sent your son, Jesus, as our Redeemer," Ross said.
The Wisconsin-based Freedom From Religion Foundation (FFRF) targeted the Mount Sterling Village Council's prayer practice, calling it "troubling."
COST OF PRAYER: NORTH CAROLINA COUNTY PAYS $285G FOR OPENING MEETINGS IN JESUS' NAME
"If you're giving a Christian prayer, and only a Christian prayer, that's where you really get into problems," Chris Line, an FFRF attorney, told the Columbus Dispatch.
But First Liberty Institute, a religious freedom law firm, sent the Mt. Sterling officials a letter Tuesday affirming the constitutionality of the opening prayer.
RELIGIOUS LIBERTY GROUP DEFENDS VETERANS MEMORIAL AGAINST 'BULLY' TRYING TO REMOVE BIBLE FROM DISPLAY
"The practice of opening public meetings with prayer is as old as our country," Jeremy Dys, a First Liberty attorney, said. "All Americans are free to pray (or not) before public meetings according to the dictates of their consciences."
First Liberty, which recently argued on behalf of the Bladensburg "Peace Cross" memorial in front of the Supreme Court, points to Supreme Court precedence and urged the council members to "ignore complaints to the contrary."
CLICK HERE FOR THE FOX NEWS APP
This comes days after a freshman representative in the Pennsylvania General Assembly was accused of "Islamophobia" for using Jesus' name in the opening prayer on the same day the first female Muslim member was set to be sworn in, and earlier this year a North Carolina county paid $285,000 to the American Civil Liberties Union to settle a five-year-old lawsuit for the county's opening Christian prayers.