Instagram account calling out celebrity pastors who wear pricey sneakers goes viral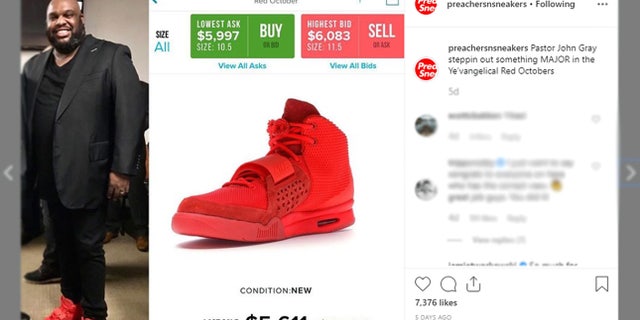 "Bad and Boujee? More like God and Gucci ayyyee."
That's the tagline for an Instagram account called "@PreachersNSneakers" that blew up to over 120,000 followers in a few weeks, posting photos of celebrity pastors and their costly kicks.
HALF OF PASTORS SAY THEY WORRY ABOUT SPEAKING OUT ON HOT-BUTTON ISSUES, OFFENDING PEOPLE
The account, which garnered humor, judgment, and awareness to what some describe as a pretty shocking phenomenon, features celebrity pastors like Carl Lentz, Judah Smith, Chad Veach, Steven Furtick, and Rich Wilkerson, Jr. with shoes that cost from a few hundred dollars up to $5,000.
A 29-year-old evangelical sneaker fanatic, who has remained anonymous, started the account after he was searching for a Christian song online and recognized an expensive and extremely rare pair of shoes that a worship artist was wearing. It started as an insta-story but after he turned it into an account, it quickly went viral.
"This started purely as comedy for my friends, but it's since turned into a much larger conversation," he said during a Q&A on Instagram. "I want people to consider how they are stewarding their money and ask the same of their leaders."
Some of the pastors have said the shoes were given to them as gifts.
NOTORIOUS GANG LEADER NOW PREACHES JESUS: 'I'M A RADICAL SOLDIER FOR GOD'
The account uses StockX as the market price for the shoes and features celebrity pastors Lentz, lead pastor of Hillsong Church in New York City who is friends with Kevin Durant and famously baptized Justin Bieber; Veach, founder and pastor of Zoe Church in Los Angeles where Chris Pratt frequently attends; Erwin McManus, the founder and pastor of Mosaic Church in LA; and several others.
LA PASTOR SHARES BATTLE WITH ANXIETY, CANCER AND HIS MISSION TO FIND 'INNER PEACE'
Followers generally have two very passionate points of view. One group says "who cares" while the other is raising concerns with pastors and their role in the church.
"I didn't want to start any kind of movement or theological discussion, but I guess at the back of my mind I was commenting on it because it did seem ridiculous," the account creator said. "Mack Brock, who was wearing those Yeezy's that I saw initially. I did have the question of like how is he, like why is he wearing $800 resell sneakers? and why is Steven Furtick wearing these shattered backboard ones which are impossible to get in the retail market now?
A lot of users have had fun with the account.
BOY WHO INSPIRED FAITH SURVIVAL STORY 'BREAKTHROUGH' SAYS 'GOD STILL DOES THE IMPOSSIBLE'
"I see all of you judging these pastors, but none of you have walked a mile in their shoes," one person commented.
Another made a reference to this being a modern-day Reformation: "This account is like the 21st-century version of Martin Luther nailing his theses to the church door."
AN UNLIKELY JOURNEY FROM AGNOSTIC GAY MAN IN PRISON TO EVANGELICAL BIBLE PROFESSOR
The founder, who said he has time because he works in tech and is attending grad school, points out that many church attendees didn't realize how much their pastor's clothes were actually worth.
"Absolutely make as much money as you can selling books, doing speaking deals, and being an influencer, but also be aware of the optics that surround you in your position," he said.
MILLENNIALS CREATE A BIBLE FOR THE INSTAGRAM GENERATION
He says it "seems like something worth talking about," but the @SneakersNPreachers founder said he doesn't have an opinion on whether the Christian leaders are flaunting footwear that's too expensive.
CLICK HERE TO GET THE FOX NEWS APP
"What's a reasonable amount to spend on shoes?" he asked, "I honestly have no idea and it's not up to me."