How Abdu Murray went from being a devout Muslim to defending the Christian faith
Abdu Murray, a former devout Muslim, was once a skeptic of Christianity, but now he dedicates his life to answering the toughest questions thrown at him to defend the very faith he once viewed as "delusional thinking."
Murray, 46, is a Christian apologetics (i.e. Bible-defending) speaker and the North American director for Ravi Zacharias International Ministries (RZIM). Fox News spoke with him on the heels of RZIM's most recent "Skeptics Night" event at the Brooklyn Tabernacle, tackling the faith's toughest questions with his colleague Vince Vitale.
NOTORIOUS GANG LEADER NOW PREACHES JESUS: 'I'M A RADICAL SOLDIER FOR GOD'
"Everything I was hoping was true about God in Islam -- was true in Christianity," Murray told the audience.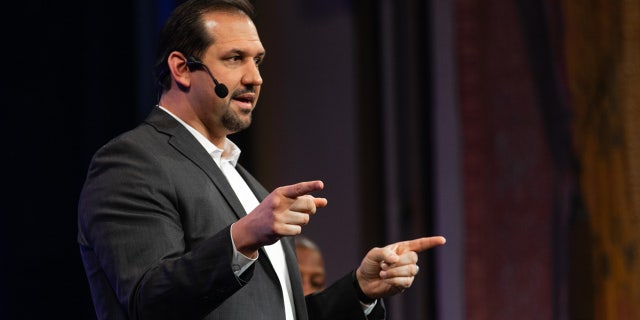 He became a Christian at 27 years old, born a Muslim into an American family with a Lebanese background. But it was a nine-year journey that involved a lot questions being lobbed at Christians, and it became apparent to Murray that in many cases he had thought through their side more than they had.
'WHEN GOD BECOMES REAL': BETHEL PASTOR OPENS UP AFTER BEING HOSPITALIZED FOR NERVOUS BREAKDOWN
"I'd lodge my objections, and I would do it in a very conversational, friendly way, but along the way, some people actually knew what they were talking about. Christians actually knew why they believed what they believed began to encounter me and offer me some things that got me thinking maybe this isn't as silly as I once thought it was," he said.
The greatest hurdle for Murray was that he had always believed Christianity insulted God and the central idea of Islam, that God is greater, inherent in the phrase, "Allahu Akbar," with the concept of the Trinity and the cross. But he said it was the historical crucifixion of Jesus that ultimately spoke to his desire of a God that is worthy of that kind of worship.
MILLENNIALS CREATE BIBLE FOR THE INSTAGRAM GENERATION
"I came to find out that these ideas actually demonstrate God's greatness," Murray said. "That God is great because he's triune, because he's incarnational, and because he's self-sacrificial. The greatest possible ethic is love and the greatest possible way to express that ethic is self-sacrifice, and if God is truly the greatest possible being, then he would express the greatest ethic in the greatest way and that is self-sacrifice, and that's what the cross is all about."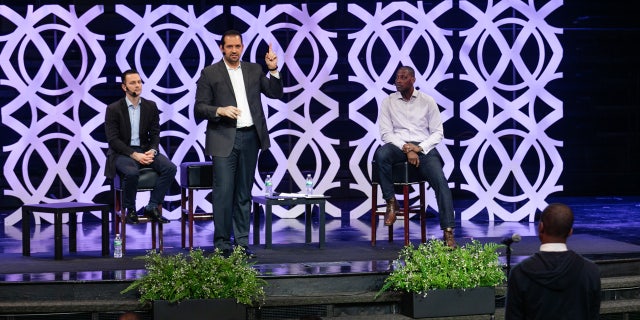 What is apologetics and why is it important?
The word "apologetics" comes from the Bible verse 1 Peter 3:15 in the New Testament where the Apostle Peter says believers need to be prepared to provide a reason, or an "apologia," for the hope within them and to do so with gentleness and respect.
It's intellectual and emotional, Murray notes.
LA PASTOR SHARES BATTLE WITH ANXIETY, CANCER AND HIS MISSION TO FIND 'INNER PEACE'
"So the point of apologetics is not to apologize for anything,' he said, "and it's certainly not to show how smart you are, often times I think Christians want to engage in a conversation where they want to show someone how smart they are and how wrong the other person is, which makes them engage in the art of making someone sorry they asked. But the reality is, is that apologetics is about giving the hope, through reason, to someone who desperately needs it, and you do it with gentleness and respect."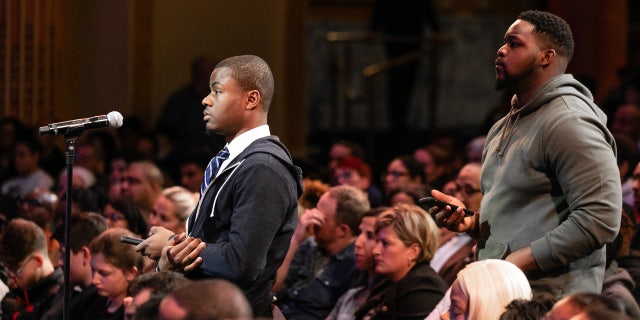 What is the most difficult question you get asked?
For Murray there are really two difficult questions to answer, and they're on opposite sides of the spectrum.
LONDON STREET PREACHER ARRESTED IN VIRAL VIDEO: 'DON'T TAKE MY BIBLE!'
"The question of suffering and evil, 'how can God exist, if there's suffering and evil?' has largely been answered philosophically, but for every person, it actually matters to them personally," he said. "No one just asks that in an academic vacuum, they always ask it personally, and so that's a very tough one to answer."
But he notes the Christian faith answers it in an obvious way.
WORSHIP LEADER BEGAN FOSTERING BECAUSE 'THE LORD STARTED TO SPEAK TO US'
"It isn't that God ignores suffering, it's that God himself experiences suffering so that one day we don't have to," he said.
The other question deals with people who think they have everything they need: a good life, good job, etc. and ask, "What do I need God for?"
NORTH KOREA PRISON CAMP SURVIVOR: 'AM I CHRISTIAN? YES. I LOVE JESUS. BUT I DENY IT'
"The reason that's difficult is not because of the concepts involved but because it's hard to show someone their need when all of their earthly needs or material needs are actually satisfied, but how do you show them that their spiritual needs are actually important as well?"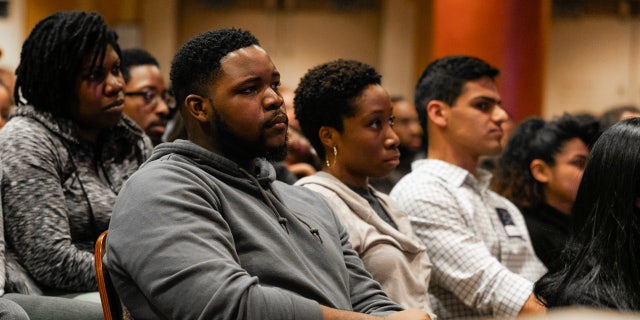 How has apologetics changed over the last few years?
"It's gone from answering really factual questions to really cultural questions," Murray said.
TEXAS MEGACHURCH OPENS NEW CAMPUS IN MAXIMUM-SECURITY PRISON: 'OUR BROTHERS AND SISTERS IN CHRIST'
He now gets more questions on sexuality, science, and faith. Do Christians need to adhere to a certain political affiliation?
It's changed the way he has to answer, "meaning not just factually up to par, but actually, make it matter."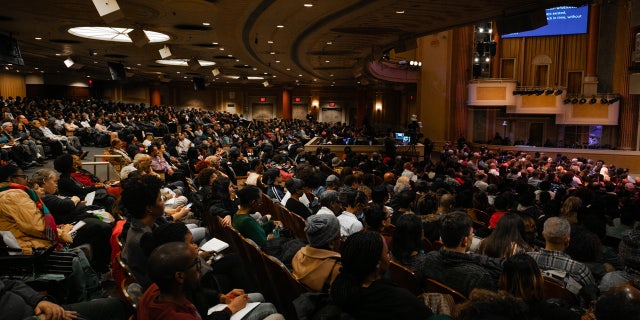 What is the most common question today?
While the most frequent questions have always been about pain and suffering, one of the more common ones lately has been: "Is the Bible the kind of book that condones racism, sexism, or even genocide?"
WORSHIP LEADER RETREATED TO A HOUSE ON A HILL, ORDERED A MATTRESS ON AMAZON, AND LET HER MUSIC HEAL HER
But now, Murray said, it doesn't matter what the topic is on, he always gets asked a question about human sexuality.
When Murray spoke at Brooklyn Tabernacle, the number one vote-getting question was: "How do I offer the hope of the gospel to the LGBTQ community?"
BUTTIGIEG QUESTIONS TRUMP'S FAITH IN GOD: 'NEVER SEEN HIM HUMBLE HIMSELF BEFORE ANYONE'
Murray added: "It's an obvious need, it's a cultural issue, and I think that the gospel can speak to it, but people are very tongue-tied on how to do that."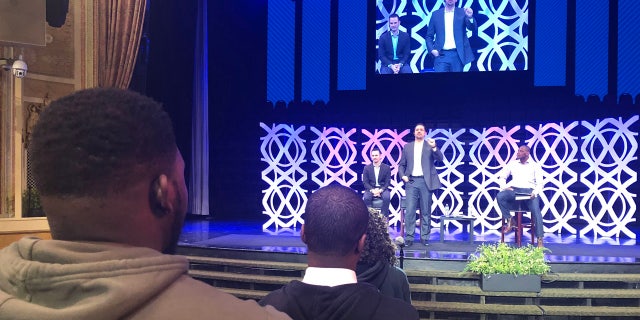 So how would you answer that question?
Christians, he notes, can come across as dry, cold, and unfeeling when they want to talk about how pro-marriage and pro-tradition they are as compared to the LGBTQ community that talks about being pro-love, a much more human-centered and loving approach.
It can be tough but there is a loving way to do it, and he said it's not about what the Bible says but rather why it says it.
ALABAMA NAVY ROTC SENIOR CREDITS GOD FOR SURVIVING BRAIN INJURY: 'MEDICAL SCIENCE CAN'T EXPLAIN MY RECOVERY'
"And for me, if we understand that every human being, no matter what they think, say, or even do, is made in God's image, and that's a uniquely Christian thing to say, it comes right from Genesis one and Jesus repeats it. We're all made in God's image.
HAILEY BIEBER SAYS HER PURPOSE IS TO 'REPRESENT JESUS' IN THE MODELING INDUSTRY
I think that once they hear Christians aren't out to get them. They're not out to just spoil the party as it were or to consign them to a life of loneliness, but when you say the Bible is actually pro-people and it's pro-love, not restrictive of freedoms, I think that actually is a conversation starter."
Why are you doing the Skeptics Nights?
"It used to be the case long ago, that the church was the first place someone who had serious doubts or questions about Christian faith would go for their answers. In our current cultural climate, it's now the last place they go," Murray said.
It's not because Christians aren't doing a good job either. It's because of the way the culture sees the church, he said.
CLICK HERE TO GET THE FOX NEWS APP!
"So that people can see – skeptics can see – maybe that place does have answers," he added. "Maybe I can go in there and ask my hardest question and I won't be shunned, I won't be driven away. I will be welcomed. My question will be welcomed and I will be welcomed, and hopefully, as we answer questions from the platform, they'll see not only is your question valued but you as a human being are valued and we honor your question as we honor you."