Texas megachurch opens new campus in maximum-security prison: 'Our brothers and sisters in Christ'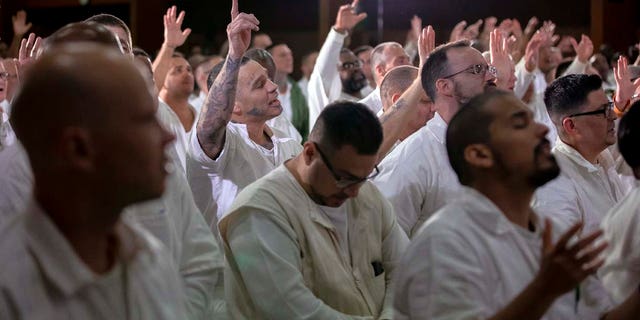 NEWYou can now listen to Fox News articles!
Pastor Robert Morris of Gateway Church in Dallas surprised his congregation Sunday with an announcement about the church's newest campus. To a rousing standing ovation, he announced the newest site would be in the state's largest prison.
"We welcome you guys!" Morris said.
More than 650 inmates attended the megachurch's first service in November at the Coffield Unit in Anderson County, which is located 90 minutes outside of the Dallas/Fort Worth area and houses over 4,000 criminal offenders.
TEXAS WORSHIP LEADER PENS NEW SONG IN RESPONSE TO NEW YORK ABORTION BILL: 'NOT FORGOTTEN'
"At Gateway Church, we're all about people because God is all about people," Morris, the lead senior pastor of Gateway, told Fox News. "Many of the men and women inside prison have been forgotten by society, but we want them to know we love them and God loves them, and they are our brothers and sisters in Christ."
Since launching the new campus has seen over 500 men make decisions to follow Jesus.
"Gateway has really impacted my life because a lot of us do not have visits, and you guys comin' in here and sharing y'alls love to us has really impacted our life," one of the inmates said with tears in his eyes.
I never knew that I could feel so free inside prison.
The Gateway Church Coffield Campus runs like any other campus, with inmates serving as greeters, ushers, operating the sound, video, and audio as well as the worship team for the service with a focus on discipleship.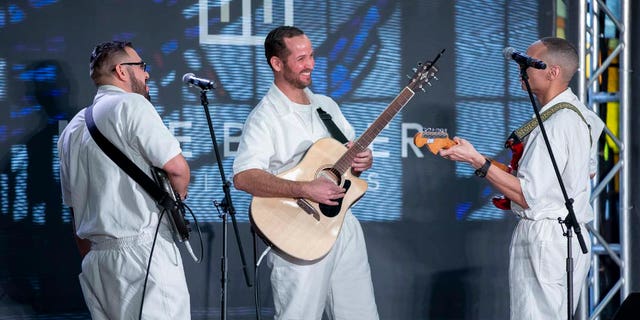 "We want the people in the prisons to have a church while they're in and when they get out, so they can be integrated back into society. People in prison need a church, and we want to be a church family—literally," said Gateway Senior Pastor Jimmy Evans, who preached at the first Coffield Unit service.
TEXAS COUPLE: GOD 'PURPOSEFULLY CONNECTED' US TO KIDS FOUND CHAINED IN HORRIFIC ABUSE CASE
Morris announced Sunday that Stephen Wilson, an ex-offender who went to seminary school and has been ministering in prisons for years, will serve as the Gateway Coffield campus pastor.
"My first meeting to launch a Gateway Prison Campus happened seven years ago," Wilson said. "We've been praying for this for seven years."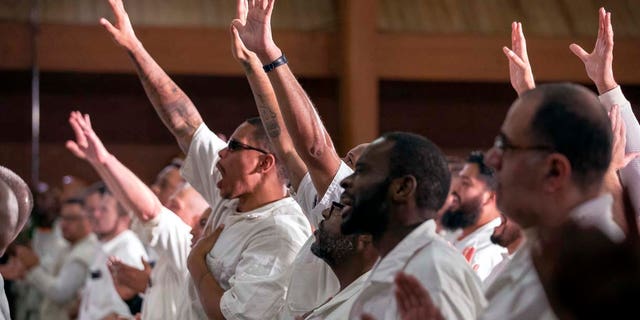 Gateway plans to open more prison campuses within 100 miles of existing campuses so members of the church can serve and volunteer at the Gateway prison services on a regular basis.
CLICK HERE TO GET THE FOX NEWS APP
"If it wasn't for the ministry of Gateway, we probably wouldn't be experiencing some of the stuff we're experiencing right now," a Coffield Campus member shared.
At the Coffield Unit, which has over 4,000 offenders, the largest population in the Texas Department of Criminal Justice, not all inmates can attend service regularly. The 2,000 minimum security offenders can attend each week.
NOTORIOUS GANG LEADER NOW PREACHES JESUS: 'I'M A RADICAL SOLDIER FOR GOD'
The medium security offenders are only able to attend on special occasions like the launch service in November, and the maximum security offenders are not able to attend but will receive materials from Gateway, such as the church magazine, devotionals, and books, including Morris' best-seller, "The Blessed Life."
"I never knew," another inmate shared, "that I could feel so free inside prison."