Alabama Navy ROTC senior credits God for surviving brain injury: 'Medical science can't explain my recovery'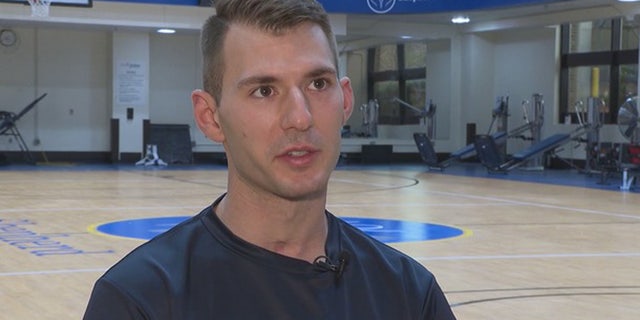 A 21-year-old senior Auburn University student, from Decatur, Ala., who suffered a traumatic brain injury last year, has made a miraculous recovery that medical professionals are crediting to God.
"My doctors have told me medical science can't explain my recovery," Cole Burton told FOX 5 Atlanta. "They told me God has something to do with it."
8-YEAR-OLD CHESS CHAMP WHOSE CHRISTIAN FAMILY FLED BOKO HARAM NO LONGER HOMELESS, RAISED $250G
The geology major in the Navy ROTC program -- who was close to being commissioned last year -- was surveying rocks along the side of the highway last May with his fellow classmates when a pickup truck, allegedly operated by a driver under the influence, spun out of control and hit Burton and his lab partner, Nick Hood, who tragically died shortly after.
A week after remaining unresponsive, Burton's parents were faced with the option of withdrawing treatment, which they ultimately declined after praying over the decision and clinging to the Bible verse Ephesians 3:20.
TEXAS COMMUNITY CELEBRATES BOY'S 'MIRACULOUS RECOVERY' WITH SUPERHERO SENDOFF
"To God be the glory," Charlie Burton, Cole's father, told Fox News. "Against overwhelming circumstances, that verse gave us the courage to ask God for a miracle. We're humbled by the fact that some people don't experience the healing. There are just things that we'll never understand, but in the moment that was our faith, that God is able."
Instead of being in a vegetative state for the rest of his life, Burton's parents saw him slowly improve.
NEBRASKA MAN SAYS MIRACULOUS RECOVERY AFTER BEING DECLARED BRAIN DEAD IS 'PROOF' OF GOD
"Most parents only have the privilege to see their child walk for the first time once. Now, we've seen it a second time," Burton told the Shepherd Center, where he is receiving eight hours of intense physical therapy every week.
Dr. Chelsea Day, one of his neuropsychologists at Shepherd, said his "journey" will continue.
WORSHIP LEADER RETREATED TO A HOUSE ON A HILL, ORDERED A MATTRESS ON AMAZON, AND LET HER MUSIC HEAL HER
"Cole has defied many of the odds the family was given," she said. "He's not alone in that."
Burton agreed.
CLICK HERE TO GET THE FOX NEWS APP
"We've all beaten the odds," he said. "Just by being here."
Burton is taking online classes and expects to be back on Auburn's campus in the fall. He's completed two 5K's and has his sights set on running the Peach Tree 10K run this Fourth of July, which he witnessed from Shepherdered Center last year while he was sitting in a wheelchair, unable to walk.
"Cole is doing fantastic," his father said. "My wife and I...see the little miracles that take place every day, and it completely robs you of the ability to complain about most of the things we worry about today."