Tori Spelling evacuates due to Woolsey Fire, thanks '90210' co-star Jennie Garth for letting her family stay at her home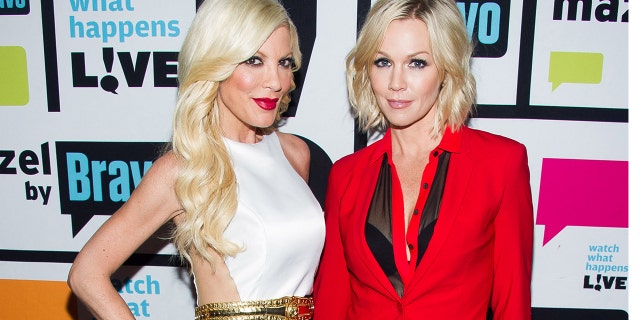 NEWYou can now listen to Fox News articles!
After Tori Spelling and her family were forced to evacuate due to the Woolsey Fire ravaging Southern California, the "Beverly Hills, 90210" alum was welcomed by her former co-star and pal Jennie Garth with open arms.
On Saturday, the 45-year-old actress took to Instagram where she revealed she was one of the thousands of people who evacuated their homes.
"Our hearts go out to all the people affected by and still being affected by the #woolseyfire," Spelling wrote. "It's in a time of utter disaster and despair that humanity steps up. Amazing to see the outpour of generosity and kindness that people have shown towards other humans and animals affected by the fires and evacuations."

She continued: "My big brood and I were evacuated last night. My eyes swell with happy tears when I reflect on how many friends immediately reached out and offered their homes to us. No small offer when you are talking about a family of seven. Some I don't even know that well but as part of our school community they stepped up. Thank you all!"
The star went on to thank her longtime friend, Garth, who was immediately there for Spelling and her loved ones.
CELEBRITY HOMES BURNED IN CALIFORNIA WILDFIRES: KIM KARDASHIAN, GERARD BUTLER AND OTHERS IMPACTED

"And, thank you most of all to my childhood, adulthood, everything in between, and lifelong friend @jenniegarth for giving our ginormous family flesh and fur your entire house to stay at in a moments notice," Spelling said. "I'm not good at asking for what I need. But only my best friend would know that and jump in and just make it happen!"

She added: "And, I'm wearing your perfumed oil ( not because I was going through your nightstand (PS I was just looking for the tv remote) but bc it reminds me of you and how much I love you) my sister for life...
KIM KARDASHIAN, ALYSSA MILANO AND MORE CELEBS FORCED TO EVACUATE DUE TO WOOLSEY FIRE

"Let's keep praying and doing our part. Never stop showing what some will always underestimate, that kindness will always win in the long run. Love to everyone."
Spelling concluded her note by also thanking all of her friends who took in the family's animals.
.
"PS- thx to our friends for housing our chickens and our other friends for housing our dragons and guinea piggy."
CALIFORNIA WILDFIRE PUSHES TOWARD TONY MALIBU, PACIFIC OCEAN
Spelling is just one of the many celebs among the thousands of people who were forced to evacuate their homes over the past several days.
The Woolsey Fire — which started last Thursday night and by Friday had pushed toward Malibu and the Pacific Ocean, prompting evacuations in Malibu, Calabasas, Agoura Hills and other nearby areas — is one of three major wildfires ravaging the state.
It has already destroyed an estimated 270 structures spanning nearly 92,000 acres as of Monday afternoon, according to the California Department of Forestry and Fire Protection (Cal Fire).
At least 54 fire crews, using 450 fire engines, are working tirelessly to put out the blaze — which is now 20 percent contained.
Fox News' Jennifer Earl and The Associated Press contributed to this report.