Snoop Dogg loses a 'Family Feud' category about marijuana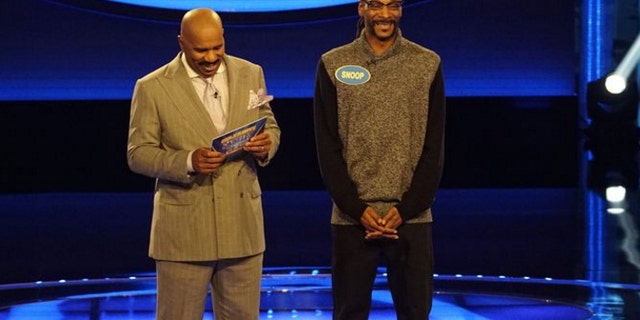 "Celebrity Family Feud" has proven to be one of the biggest hits of the last couple of summers, mostly because it allows Steve Harvey to interact with some major celebrities and have a little fun. This week, Snoop Dogg is popping up to compete on the series. In a preview clip for tonight's episode, we get to see Snoop basically get handed what should have been the category of his dreams: A category about marijuana. Instead, the category unfolded unexpectedly. You can watch Snoop somehow lose the category, below.
How Tom Bergeron felt about the 'America's Funniest Home Videos' jokes he told
Snoop Dogg and Sugar Ray Leonard's families are set to be a part of this week's episode. When Steve Harvey had the famous rapper and the famous fighter face off, we weren't sure who would ultimately get to the buzzer first. However, once Steve Harvey revealed that what the round was asking was to, "Name something Grandma might do if she caught Grandpa smoking marijuana," it seemed obvious that Snoop Dogg would have this one in the bag, right? Wrong.
Snoop Dogg did get to the buzzer first, which is honestly a feat onto itself, considering Sugar Ray Leonard's quick hands and otherwise athletic prowess. Even Steve Harvey seemed to be tickled about how quickly Snoop engaged once the word marijuana was tossed out. Regardless, Snoop Dogg became the first to guess, which gave him the opportunity to choose the best answer before Leonard weighed in. He chose to guess that Grandma would hit Grandpa if she found out he was smoking weed. Sugar Ray Leonard, who had a little more time to think up an answer, ultimately opted to say Grandma would scream at Grandpa. Leonard's answer was the #2 answer on the board.
Why one popular 'Bachelor' couple is returning to reality TV
Ultimately, we will note that it is not as if Snoop Dogg gave the worst answer we've ever seen in the history of "Celebrity Family Feud," but he was soundly beaten by the retired boxer. Snoop Dogg's answer was #4 on the board.
Honestly, it's just pretty cool that both competitors were in touch enough with the category to give answers that actually made it onto the board. In the past, Steve Harvey has spoken out about the challenges of creating episodes of "Celebrity Family Feud," mostly because the celebrities are so out-of-touch with reality and are waited on hand and foot that they can't answer so-called "normal people questions." Engaging Snoop in a question about a subject he loves--pot--is one way to keep the game on his level, I guess.
Uncle Buck cancelled by ABC, will not return for season 2
Other Season 3 celebrities include Paula Deen, Giuliana Rancic and teams made up of "Bachelor" and "Bachelorette" contestants. New episodes of "Celebrity Family Feud" air on Sunday nights on ABC. To find out what else is coming to TV this summer, be sure to check out our premiere schedule.