Sesame Street Tweet Sparks Rumors That Bert Is Out of the Closet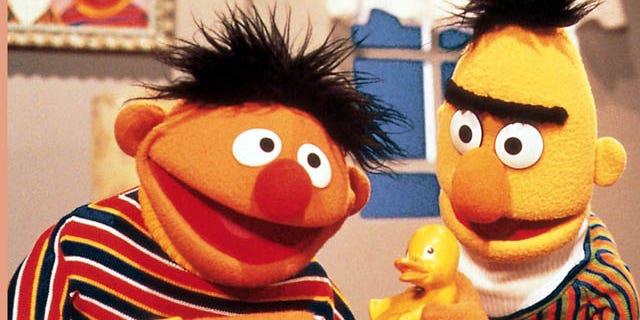 He's lived with a man for 31 years and wears turtlenecks and saddle shoes, and rumors of his homosexuality have swirled for years. But no one's ever heard directly from Sesame Street's Bert on his sexuality, until now… sort of.
On June 11, the famous puppet tweeted about the recent "A-Team" remake by comparing himself to A-Team star Mr-T, saying, "Ever notice how similar my hair is to Mr. T's? The only difference is mine is a little more 'mo,' a little less 'hawk.'"
To some the comment was just a cute quip about hairstyles, but to others, "mo" was short for "homo" and this was Bert's way of coming out at the perfect time.
"Being sent right in the middle of Pride Month, it seemed like a fun coded message to us 'mos, and one that I was happy to pick up on," Ed Kennedy of the gay pop culture site AfterElton.com wrote on the site Monday.
Having been one of the first people to write about the tweet, Kennedy said it felt like, "a nice little 'in joke' for the gays, and nobody else the wiser about those two adult Muppets who have shared a bedroom for 30+ years."
Nearly four months later, the "in joke" is even more out than Bert allegedly is, gaining traction in major news outlets in the U.S. and abroad and raising the question, did Bert really out himself?
No, says Ellen Lewis, spokeswoman for "Sesame Street's" production company, Sesame Workshop.
"Our writer had no intention of implying anything by the tweet, no agenda and no idea that it would be interpreted any other way except that the 'A-Team' movie was out and Bert has, like, a mini-mohawk, so her intention was just a fun way to split up the word just to imply that his hairstyle is a shorter derivative of a longer Mohawk that Mr. T in the A-team wore," Lewis told FoxNews.com.
But this is hardly the first time Bert, or Ernie for that matter, has been accused of being gay.
"Bert and Ernie conduct themselves in the same loving, discreet way that millions of gay men, women and hand puppets do. They do their jobs well and live a splendidly settled life together in an impeccably decorated cabinet," writer Kurt Andersen says in his 1980 book "The Real Thing."
In 2002, Sesame Workshop blocked further showings of the short film "Ernest & Bertram," in which a character based on Ernie confesses his love for another character, based on Bert.
According to GayToday.com, Ernie was even asked directly about the alleged relationship at an appearance at Carnegie Mellon University, to which he replied: "All that stuff about me and Bert? It's not true. We're both very happy, but we're not gay."
Still Jarrett Barrios, president of the Gay & Lesbian Alliance Against Defamation (GLAAD), says with more homosexual guests on this season, "Sesame Street" is growing more LGTB-friendly than ever.
"As more and more loving and committed gay and lesbian couples begin families, it's important that their children see representations of their families on their favorite shows," he told the Los Angeles Times. "'Sesame Street' has a long history of teaching children about diversity and acceptance, and I don't expect that our community will be left out of that education."
Lewis says Bert and Ernie don't have a sexuality -- "they're puppets" -- and they were created to teach kids to get along with people who are different.
"We just want to show that kids can remain friends with people who have different personalities," she said.
Kennedy writes, "If Sesame Street needs to push Bert back into the closet he shares with Ernie (in the bedroom with the twin beds), that's fine. We know the truth. *wink-wink*"