Selena Gomez moves many to tears with acceptance speech at AMA awards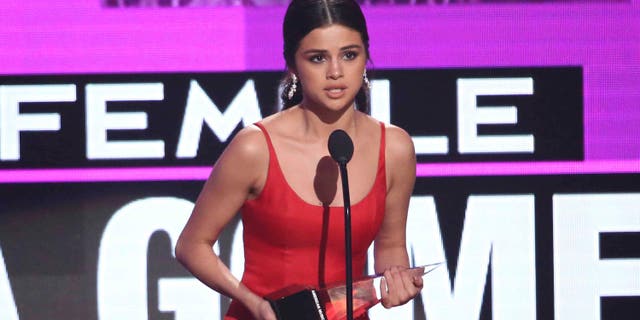 LOS ANGELES – Selena Gomez lost Artist of the Year to Ariana Grande at the American Music Awards Sunday night, but she won the love of the entire audience with her heartfelt acceptance speech for Favorite Female Artist in the pop/rock category.
The former Disney star told the audience that even though she had everything, "I was absolutely broken."
"I think it's safe to say that most of you know a lot of my life, whether I liked it or not, and I had to stop, because I had everything, and I was absolutely broken inside," said the 24-year-old Gomez, who recently took time off to treat depression and anxiety.
"I kept it all together, to where I never let you down. But I kept it too much together, where I let myself down," she said, earning loud applause from the audience at the Microsoft Theater in Los Angeles.
"I don't want to see your bodies on Instagram. I want to see what's in here," she added, pointing to her heart. "And I have to say thank you so much to my fans, because you guys are so damn loyal, and I don't know what I did to deserve you. If you are broken, you don't have to stay broken."
Gomez wasn't expected to attend the ceremony. She has been taking time off from touring and recording after announcing in August that she needed to deal with anxiety, panic attacks and depression stemming from her battle with lupus.
The experience apparently changed what she looks for on social media.
Still one of the most followed celebrities on Instagram, earlier this year she stopped posting her to social media accounts.
This is not the first time she has spoken about dealing with an overexposed life.
"I am not trying to get validation, nor do I need it anymore," Gomez announced to a round of applause from the crowd.
Based on reporting by the Associated Press.