Rapper The Game's gangbanger Jesus CD cover offends some Christians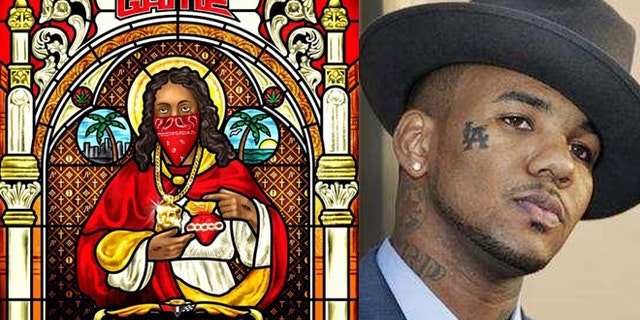 LOS ANGELES – West Coast rapper Jayceon "The Game" Taylor's fifth studio album "Jesus Piece" hit stores this week and in the process has ignited a firestorm over its religious symbols and imagery, which critics call disrespectful to Christianity.
The cover features a black Jesus in a stained glass window with a teardrop tattoo and a red bandana -- a perceived reference to the Compton Piru Bloods gang – covering his mouth. Jesus is holding a "Jesus Piece" chain which is directed toward a symbol on his breast plate. Placed behind the divine figure are symbols of cannabis sativa leaves.
Tilla Amin Tanyi, Communications Coordinator at Save Africa's Children, told us the illustration "is obvious is the depiction of Jesus as a Blood gang member hence the red, the tear drop, the bandana, etc."
"In his attempt to make Jesus 'relate-able' he ended up depicting Jesus as a shallow man searching earthly treasures and presumably a participant in criminal activities," she said.
But the controversial rapper didn't leave it there.
[pullquote]
During his Tuesday night show to celebrate the album's release at the Los Angeles House of Blues, Game was joined on stage by a white, blond-haired "Jesus" donning a traditional white robe and sandals. The "Jesus" figure proceeded to deliver the hip-hop star with a diamond-encrusted "Jesus piece" to wear around his neck. According to one concert attendee, "Jesus" could be doing praying-type movements, and during the finale threw up a "Westside" hand symbol was waved his arms from side to side alongside a slew of other high-profile rappers that stormed the stage.
"Jesus was getting everyone to wave their hands too," said the audience member. "The crowd thought it was all pretty funny."
Not everyone is laughing.
"Unless he was re-enacting the the Resurrection story, I can't imagine this being a good idea. He's gone too far," Tanyi continued. "He's making a mockery of what is sacred to many individuals."
The album's track listing also contains religious-inspired titles, such as "Heaven's Arms," which has lyrics that include "Ain't forgot about the Twin Towers and I blame Bush for them," as well as "Pray," which he refers to himself as his girl's (who happens to be "shaped like a coke bottle") God-given "guardian angel." The Game also used the hashtag #SundayService and announced on Twitter that he would be dropping tidbits to keep fans interested on each Sunday leading up to the album's official release.
Across the Twitterverse, the album cover has attracted both praise and controversy. Fellow celebs Busta Rhymes, Mac Miller and Kevin Hart have given the artwork the thumbs up, with numerous fans echoing the sentiment with a positive response – calling it "gangsta" and "dope." However others have weighed in that it is "blasphemous" and "disrespectful as f**k."
"It's disgusting, offensive, tiresome, and boring," another observed to us. "It's not surprising the cover has been supported by a range of talentless 'celebrities.'"
But The Game was clearly well-prepared for the public outcry, which began in October when the rapper previewed the cover pictorial on Instagram, reportedly prompting the Roman Catholic Church reportedly to call his label, Interscope.
"It got really crazy. That was my plan. That album cover was always the deluxe album and I put it out first because I knew what it was going to do controversy wise. It did what I wanted it to do and everyone was pissed off," The Game told Vibe TV. "Representatives called Interscope and reached out to the art department saying how it was wrong and we had to change it… Of course Walmart and Target didn't want to put it out and they were saying we had to change it… But now they're both taking it and that's how it goes."
That's only partially true. The rapper decided to make the Jesus-esque picture the cover for only the deluxe edition, while the standard edition cover pays homage to Game's brother, Jevon Danell Taylor, who was shot and killed at age 21.
And while media entertainment lawyer, and devout Catholic, Margaret Cone said she would leave the First Amendment issues to others, she thinks The Game would probably better served focusing on his chosen craft.
"Looking at the album cover, its clear he has no understanding of Jesus' life and his message of hope and redemption. And he would be disappointed that his message has been inappropriately distorted to sell music," she said. "I think he should focus on making good music and not a faux controversy."
Others weren't quite so disturbed, and welcomed the Jesus imagery as a means of personal expression.
"If you believe in God, you have to believe this artist is one of God's creations too. The Game doesn't appear to be 'hating' on God, Jesus or religion. He is expressing the confusing influences and conflicts in his life," remarked Nathan Lang, director of the theology-inspired documentary 'God in a Box.' "I don't find the cover to be disrespectful. I find it to be provocative, but I'm a skeptic who thinks almost everything like this is designed to get attention or PR."
And despite the well-planned flap, The Game insists that he is a passionate Christian.
"I'm calling it 'Jesus Piece' cause last year in August I got baptized and so I've been going to church, but I still been kinda doing me out here," he told Connecticut radio personality Jenny Bloom. "I still love the strip club and I still smoke and drink. I'm faithful to my family, so I wanted to make an album where you could love God and be of God, but still get poppin' in your life."
A rep for The Game did not respond to a request for further comment.