Noah Galloway's relationship with Armitron direct result of IED attack that took his arm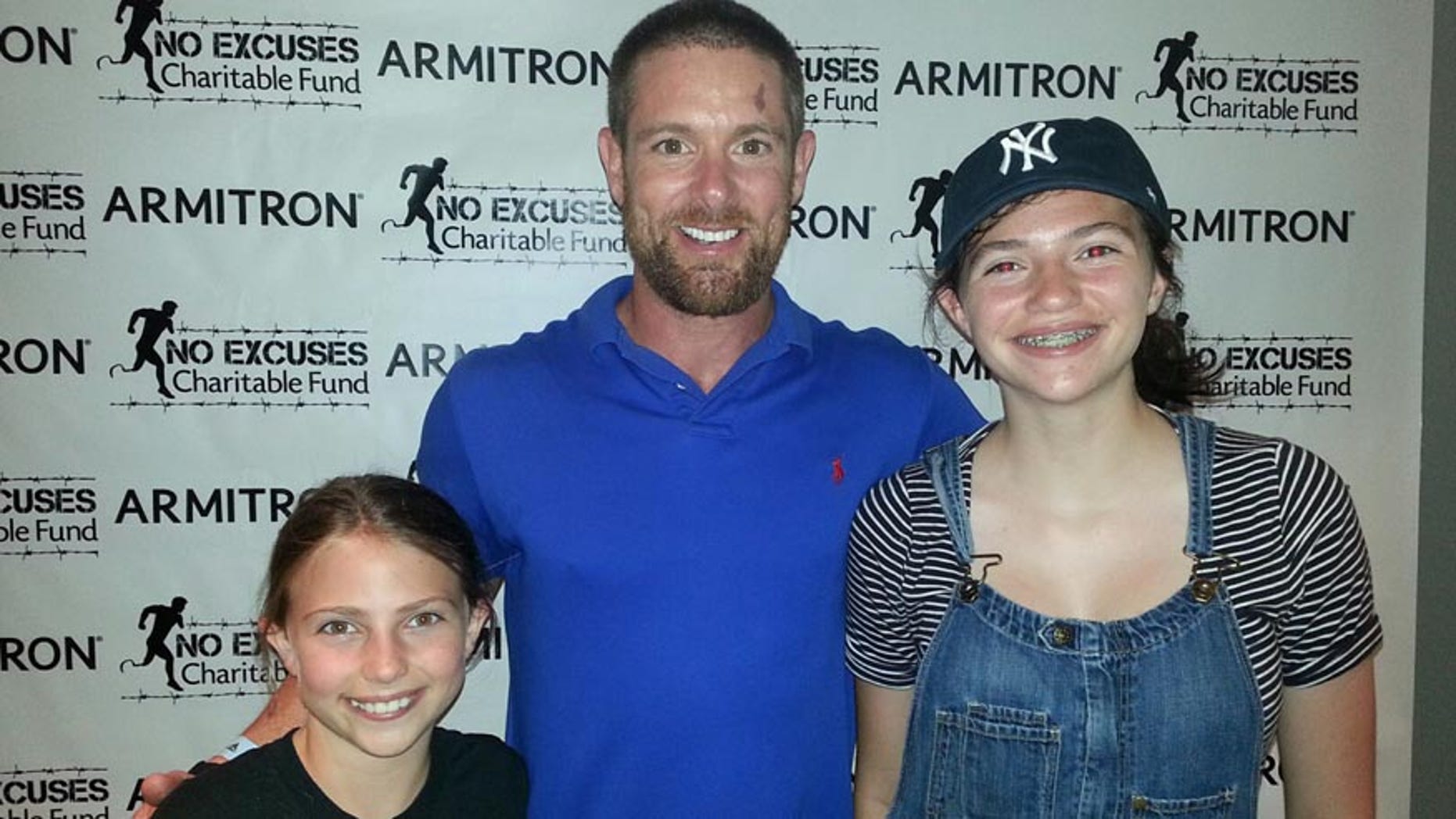 NEW YORK – Noah Galloway threw out the first pitch at Tuesday night's New York Yankees/Boston Red Sox game only after his best-laid plans to give the experience to his son went awry.
"I didn't practice at all. Everyone thought I was crazy, but I had a plan," Galloway told FOX411. "I was gonna walk out there with all my kids. Me and my boys had already discussed it and agreed the 10-year-old was gonna throw the ball for me. Then I get down there, and they say the kids can't walk out with me. Only you. I looked at my fiancé like 'Oh crap, my plan is falling apart.' I couldn't tell you the last time I threw a baseball."
Which made it all the more impressive when Galloway threw a strike, painting the outside corner.
"Somehow, I pulled it off."
Galloway was at the game with Armitron watches, who works with the Operation Iraqi Freedom veteran—who lost most of his left arm and leg in an IED attack on December 19, 2005 -- on a host of initiatives. Armitron presented a $10,000 donation at the game to Galloway's No Excuses Charitable Fund, which raises money and awareness for organizations including Operation Enduring Warrior and the YMCA of Alabaster, Alabama, Galloway's hometown.
It was that IED attack that led directly to Galloway and Armitron's unique relationship.
"I actually was wearing an Armitron watch on my left arm when I was in Iraq. My arm was blown off immediately, but it was there with me, so they took the watch off and all the contents out of my pockets and put them in a Ziplock bag," Galloway said. "When I woke up in the hospital, it was all there. I moved back to Alabama, put the bag in a drawer, left it for five years.  After five years I decided to get back into shape and thought, 'I need a watch.' I was like, 'Oh I had a watch,' so I pulled it out, cleaned off the blood off the screen, set the correct time, and started wearing it on my right wrist. Then the band broke, the silicone band – and everybody was like 'You should contact Armitron, you have an amazing story. So I reached out to them, they heard my story, they loved it, we started working together. And all this was before 'Dancing With the Stars.' They treat me like I'm family."
Galloway, 33, became known to millions of fans during the most recent season of "Dancing With the Stars," where he made it to the show's final three celebrity hoofers.  But when it comes to spotting celebrities himself, Galloway still has a hard time.
"I'm friends with [Pittsburgh Steelers quarterback] Ben Roethlisberger, and the reason we became friends is I was in an airport a couple years ago and he walked up to me, thanked me for my service, we took a picture together – and I didn't know who he was," Galloway said. "As we were talking, I figured it out, I looked up his Twitter account, tweeted it, and when the plane landed it blew up on Twitter, we started chatting, and now we're good friends, and it's because I didn't know who he was."
Galloway said he was never a huge sports fan, but after befriending the Pittsburgh QB and watching the Yankees shellac their hated rivals the Boston Red Sox 13-3, he now has two favorite teams.