New Official Miss USA Photos Racier Than Those That Got Carrie Prejean in Hot Water?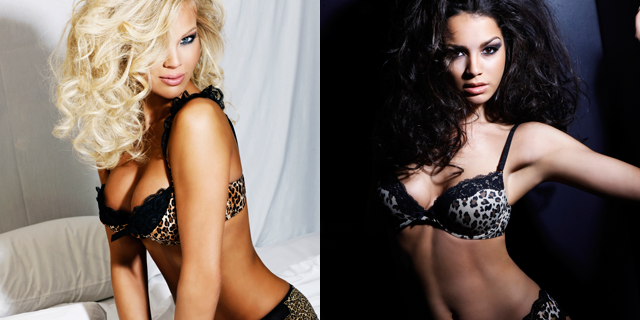 Remember Carrie Prejean?
She was the Miss USA contestant last year who was attacked first for her views on gay marriage and then again weeks later for a series of sexy photos that were deemed so racy, they almost cost the reigning Miss California her crown.
Well, times sure have changed at Miss USA under the tutelage of its owner, real estate tycoon and media personality Donald Trump.
Last week, the 51 Miss USA hopefuls convened in Las Vegas and shot their official contestant photos with photographer Fadil Berisha.
The look?
Lacy lingerie, fishnets, smudged black eyeliner, knee-high boots, ample cleavage and plenty of bare skin, all while positioned in seductive poses on a large bed.
SNEAK PEEK: The 51 New Pageants Photos: Are They Too Much?
Miss Virginia and Miss Kansas are even braless, donning only open shirts and panties.
For some Miss USA hopefuls, participating in such a sexy shoot caused quite a bit of apprehension. Paula Miles, the state director for South Carolina, North Carolina and Louisiana, told Pop Tarts she received a distressing call from two of her pageant contestants just prior to having had their pictures taken.
"They happened to have gone up in the room and they saw what was taking place, and they called concerned, and my best advice to them was just to not compromise yourself," Miles told Pop Tarts. "They made sure their breasts were covered and that they weren't in provocative attire. They knew that their family was going to see these. They were concerned, knowing that they had to participate in order to be competitive."
Miles said the theme of the Miss USA shoot went against how she ran her state pageants.
"We're from the South, we have a business, and we have to be broad-based and have an open mind, but we run our business as a wholesome, family, basic experience," she explained. "Once it gets to the national level, it takes on a different feel."
VOTE: Do the New Miss USA Photos Go Too Far?
Miles did add that the final photographs were better than she expected, and for the most part artistic and beautiful. California's state director, Keith Lewis, who was involved in a lawsuit with Prejean after she was stripped of her Miss California crown, had no problem with them at all.
"These should leave no consumer with any confusion about the difference between the dated Miss America [a 90-year-old, scholarship-based pageant] and Miss USA," Lewis said. "Miss USA is a feeder contest for Miss Universe where we go off and compete against Miss Venezuela and Miss France, countries that are progressive in their fashions and acceptance of sexier looks. But at the same time we are mentoring young woman and need titleholders with a strong moral character who know the difference between what we're trying to sell in an image and what happens in real life. I don't want to see my Miss California working in fishnets on top of a bar."
The directors for Miss Oregon USA also believe the pictures are quite simply "hot."
"These are the girls you wish lived next door," directors Bert and Carol Lukens said.
A rep for Donald Trump and the Miss Universe Organization, which also operates Miss USA and Miss Teen USA, said the pictures are a reflection of their ongoing attempt to break the stereotype of a "pageant princess" and instead promote a smart, sexy and sophisticated modern woman.
"We work with an amazing photographer who we really consider to be more of an artist, we trust his creative and professional instinct," the rep told Pop Tarts. "The contestants that compete for Miss USA are confident women who clearly trust Fadil as much as we do. The final results of the photos speak for themselves. The photos are hot, yet tasteful."
Sponsors and companies who work with Miss USA don't seem to be turned off by the extra flesh-flashing, either.
"We have no input in the development of the pageant show or the styling choice for the photographs of contestants," a spokeswoman from Diamond Nexus Labs, who create the Miss USA crown, told us. "While we understand that the photography style does not suit all tastes, we feel that the photography of the contestants is beautifully done and we support the Miss Universe Organization in their effort to show that there is more to a pageant girl than dated clothing and a stiff wave."
Hair care sponsors CHI & BioSilk products also applauded Berisha's glamour shots, and the senior director of the New York Film Academy, which rewards the winner with a scholarship, said that the photos will not affect its working relationship with Miss Universe.
But has this new emphasis on the ultra-irresistible 21st-century vixen gone too far?
"Many of the photos push the line between what is appropriate and what is not. As a young woman, I know firsthand how much women are judged by their appearance. I am a big supporter of pageants, and I feel pageants do help to influence women into feeling good about themselves by promoting their intelligence and artistic skills," pop culture/media expert Rachelle Friberg said. "But we live in a culture in which sex sells, and I have to wonder if the Miss USA organization is falling victim to this. The organizers would do a great service to women if they took this into account and returned to their roots of promoting women in a classy, tasteful way."
And there is the matter of a seeming double standard, considering how Prejean was attacked when semi-nude photos taken before she was named Miss California were released.
Not so, said one pageant insider. "These photos are making a statement that Carrie Prejean's topless photos are not what got her fired," explained the source.
Prejean, who was dethroned by Miss California for failing to fulfill her duties as a state titleholder, declined to comment on this year's round of pictures.
But these photos may be just the beginning of a major change in the Miss USA contest.
"I think we're going to hear a lot more outcry about this later," said the insider. "The girls who don't place in the top 15 [at the May 16 show] will be going home to parents [and will] have to get a job, and these pictures will now always be out there."