Miley Cyrus risks wardrobe malfunction multiple times at Grammys
Miley Cyrus did not appear to learn her lesson as the singer opted for multiple shirtless looks at the Grammy Awards on Sunday night just months after she risked a wardrobe malfunction in a similar outfit on "Saturday Night Live."
First, the recently married star walked the red carpet with her parents, Billy Ray and Tish Cyrus, in a black suit without a top.
Cyrus' Grammys look echoed the outfit she wore during her December "SNL" performance with Mark Ronson which made headlines.
MILEY CYRUS RISKS A NIP SLIP ON 'SATURDAY NIGHT LIVE'
The former "Hannah Montana" star was topless on the NBC show, save for a silver jacket that she wore open — and that miraculously stayed in place, accompanied by matching pants and boots.
Despite Cyrus previously being totally naked in her "Wrecking Ball" music video and showing a ton more skin when she hosted the MTV Video Music Awards in 2015, Twitter still went into a tizzy at the time, with fans remarking on her seemingly physics-defying outfit.
LIAM HEMSWORTH ON MILEY CYRUS' SIZABLE WEDDING RING: 'I THOUGHT IT WAS CGI'
However, the star's Grammys look was definitely a lot more covered up than her risqué silver suit from December.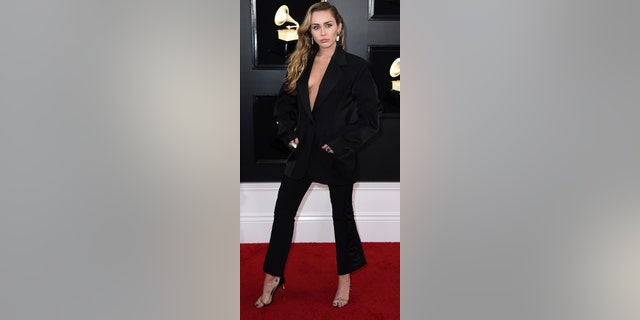 Cyrus stopped for photos with her parents who were just as glammed up as the pop star. Mom, Tish, wrote a gunmetal gown while dad, Billy Ray, dressed down in cowboy boots, a graphic tee, leather jacket and cowboy hat.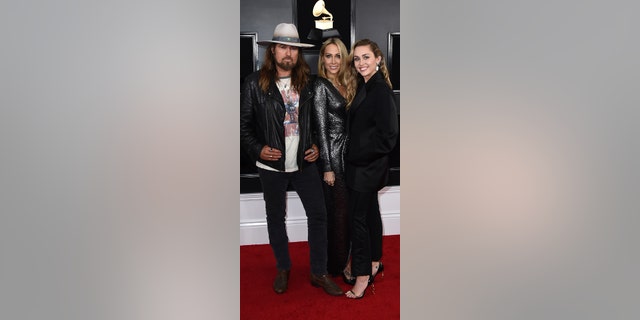 Later in the evening, Cyrus donned an even more risqué look for her performance with Shawn Mendes. This time she opted for a vest with nothing underneath being held together by a chain.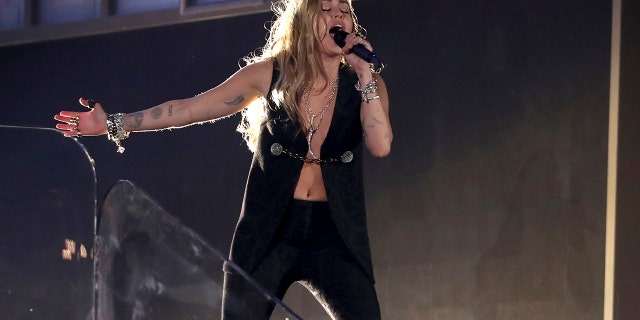 The 26-year-old left out a shirt yet again when she performed with her godmother Dolly Parton in a yellow suit.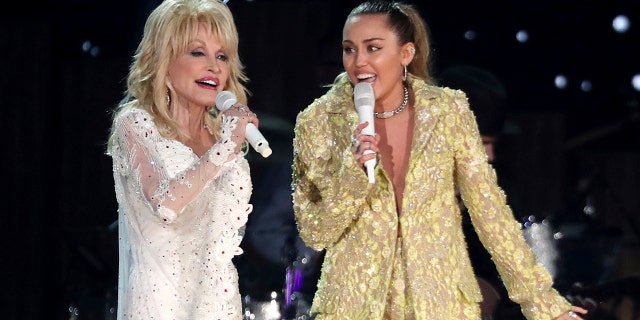 The "Wrecking Ball" singer also shared a photo of herself after the show in a very revealing dress.
Cyrus' husband, Liam Hemsworth, was nowhere to be seen. His "Isn't It Romantic" co-star Rebel Wilson told Extra Sunday that Hemsworth was in the hospital.
"Yes, he's texted us this morning, he was in hospital overnight so hopefully he will be fine," Wilson told the outlet. Cyrus made no mention of her husband's absence or hospitalization but did tell Extra she will attend the premiere of his new movie on Monday.